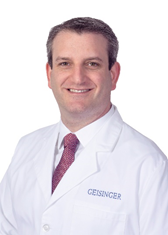 About Jonathan Slotkin, MD, FAANS
Jonathan R. Slotkin, MD, FAANS is Associate Chief Medical Informatics Officer at Geisinger. He is also the Director of Spinal Surgery for Geisinger Health's Neuroscience Institute. Dr. Slotkin has developed key strategies and solutions to drive digital provider and patient engagement, including the use of mobile device and bring your own device (BYOD) technology. He has a particular interest in consumerism in healthcare and digital methods for both the measurement of clinical patient outcomes and the improvement of patient experience. He has been a leader in the design and implementation of several of Geisinger's care delivery reengineering initiatives, including ProvenCare(R) Lumbar Spine and ProvenExperience(TM). He was physician lead of Geisinger's ProvenExperience(TM) patient refund app program. Dr. Slotkin has active translational research in the areas of tissue engineering and regenerative medicine and is co-founder and serves on the scientific advisory board of LaunchPad Medical. He has expertise in employer-purchased health care and the design and delivery of bundled care paradigms. Dr. Slotkin completed residency training and was chief resident of neurological surgery at The Brigham and Women's Hospital, Harvard Medical School. Care delivery reengineering, digital transformation, consumerism, and helping employers reimagine the care of their associates are the things that drive him.
About Geisinger
One of the nation's most innovative health services organizations, Geisinger serves more than 1.5 million patients in Pennsylvania and New Jersey. The system includes 13 hospital campuses, a nearly 600,000-member health plan, two research centers and the Geisinger Commonwealth School of Medicine. Geisinger is known for its focus on caring and innovative programs including the ProvenCare® best-practice approach to maximize quality, safety and value; ProvenHealth Navigator® advanced medical home; Springboard Health® population health program to improve the health of an entire community; ProvenExperience™ to provide refunds to patients unhappy with their care experience; and Geisinger's MyCode® Community Health Initiative, the largest healthcare system-based precision health project in the world. With more than 215,000 volunteer participants enrolled, MyCode is conducting extensive research and returning medically actionable results to participants. A physician-led organization, with approximately 32,000 employees and more than 1,800 employed physicians, Geisinger leverages an estimated $12.7 billion positive annual impact on the Pennsylvania and New Jersey economies. Repeatedly recognized nationally for integration, quality and service, Geisinger has a long-standing commitment to patient care, medical education, research and community service. For more information, visit www.geisinger.org, or connect with us on Facebook, Instagram, LinkedIn and Twitter.
NOTE: Jon Slotkin, MD co-authored an article on his experience with employers and direct contracting with Centers of Excellence which was published recently in the Harvard Business Review : How Employers are Fixing Health Care. The following interview was conducted following the significant response that he and the other authors received following the publication.
---
Medical Travel Today (MTT): Tell us about the response you are getting to the article.
Jonathan Slotkin (JS): There has been a lot of excitement and interest.
MTT: Can you start by giving us your perspective on the medical travel opportunity and direct contracting with Centers of Excellence? Are we about to see an uptick?
JS: Yes, I think all the larger systems can certainly use this approach.
In our case, direct employer-purchased care has hit a nerve that has been problematic for years. We are really at a boiling point right now, and employers are tired of the very high variability with cost that they encounter in the marketplace.
This is even more problematic when it comes to the extremely high variability in quality and appropriateness of care that is being delivered to these companies associates and their family members.
There's an interesting figure on the Kaiser Family Foundation website that compares the US to similar western countries with advanced medical systems in six or seven countries. For example, look at France and the proportion of the GDP (gross domestic product) shouldered by the government versus the employers in the private marketplace.
It appears that in the US, the amount of GDP that is extended for healthcare and absorbed by the US government is the same proportion percentage as that which is seen in other countries.
This additional component of GDP and the group really shouldering the difference is, in fact, the employers.
This is really the crux of the situation here. As we talked about in the publication, 49 percent of Americans have their healthcare purchased for them by an employer. When we compare that to even Medicare and Medicaid combined, it is a significantly higher number of lives covered by employers than by the government.
Medicare and Medicaid combined are 35 percent of the US population and employers have finally started to realize that they are the market makers. They sit in the driver's seat. For them to wait around for the US government, provider systems or any other entity to proactively improve healthcare for their associates is going to be like Waiting for Godot.
Now they've realized that it is employers themselves who are the ones who are going to make that change and reimagine what is the next best way.
MTT: When you talk about employers, are you talking about all sized employers or just the large employers? Jumbos? Mid-sized?
JS: One of the things that a lot of folks that are new to this space feel is that they have to be the size of Walmart to have the purchasing power to do this or to be able to take the risk to do this.
This plays a big part in our thesis and in the second article that we really provided a playbook for employers on how to get started. It was designed to appeal to medium and smaller sized employers and how they can do it.
Increasingly, we are seeing these employers in the marketplace and hearing their interest. The activity from media, groups of smaller employers and Third-Party Administrators is escalating, and the increased focus on smaller employers is changing the market perspective.
One example would be like Apostrophe Health that does direct employer purchased care but only in the 100 – 2500 employee sized market. For example, they will serve school districts that want to get in to direct employee purchased care market. Not all of that involves extensive travel but some of it does involve significant driving.
I think that as the larger employers like Walmart have really said to other employers: "don't wait for the ROI and don't wait to see if this is going to improve quality. We've already done that work for you. Start now."
Increasingly as people realize this point, I think we are going to see it continued with a large uptick among medium and even conglomerates of small employers getting into this space.
MTT: So now put yourself in the shoes of the provider.
JS: I'm wearing those shoes right now.
MTT: Tell us what it takes to become a Center of Excellence? Why did Geisinger get approved and included in that network and what is your advice to others?
JS: That is a great question and probably the most common question we get from smart providers — which is how do you do this?
Just as an example, Walmart gets on average between 1 and 10 cold calls each week from providers interested in joining. The network is 'invitation only' but Walmart is so very gracious when they get those phone calls. This shows that there is an excitement and there is an interest to engage in this type of activity.
This is not just for providers looking for growth. It's for providers who realize that this is innovation. This is the next wave and they want to participate.
But for Geisinger, this has been over a 10-year journey and I think it matters.
Over 10 years ago, Geisinger engaged in a total process improvement initiative that they've created that is called ProvenCare. And Geisinger got a lot of press at that time back in '07 or '08 because the press was fascinated with the concept that it was surgery with a warranty.
Today we call this an acute episodic bundle. It did have a bundled payment arrangement around it and a 90-day warranty on complications that would develop.
It's funny but looking back on this now the reality is that if you look at proven care from '07 and '08 – great work by
[former Geisinger President and CEO]
Dr. Glenn Steele and others – this greatly resembled the 10 years later the Bundled Payments for Care and Improvement (BPCI) program..
A lot of the work we do with employers involves re-engineering around acute episodic care around a prospective bundled payment and with a warranty on the care that is delivered.
I'm not going to go out as far as to say that Geisinger invented that strategy, but my point is that this has been in Geisinger's heart for over a decade. So, this involves a building process and bringing the culture around what we've had at Geisinger to a point where process improvement work is part of our everyday work.
And the degree to which people engage in process improvement work is the currency at Geisinger. That is a big part of how you can make your name at Geisinger – by engaging in process improvement work. The currency at Geisinger is making things better.
When people say to me, "No, you're a neurosurgeon, how do you find the time to do this type of stuff and write these papers?" I respond, "It's about Geisinger – it's about what Geisinger finds that works."
So this is a long answer to say that in our case Geisinger has been building the program, the culture, the infrastructure for over 10 years and that made us a natural fit for this type of work that is really based on episodic bundling and other forms of bundling.
MTT: So, you talked about quality in that you don't have to worry about it because you've improved the quality with this model and employers don't have to guess about that. But who has the responsibility for determining the savings? Should that even be a part of the equation? Or how would you advise both sides to arrive at solutions that do in fact save money?
JS: In my mind, if you had to put in one sentence a description of how our current medical system is broken, it is that the system is designed around unit cost for all parties – payers, providers, patients, pharma and vendor.
When the system is based on unit cost, you get exactly what we see in US healthcare right now.
What is different here, in my view and in the way that Walmart is perceiving and transacting it, is that when a company is self-funded like Walmart it has this ability to do what I am about to jump on: think about the total cost of care and not get stuck in unit cost.
If Walmart says their goal is to have employees work with them for life, they think about total cost of care, not simply the next quarter. We build our models based on this concept.
I think other employers are increasingly understanding this perspective and thinking about the total cost of care. This considers decreased readmission rates, decreased skilled nursing facility placement rate, decreased complication rates, etc.
It also reflects the avoidance of inappropriate care where 54 percent of people that were recommended for spinal surgery in their home market were not found to be appropriate candidates for surgery. That's really where I think the value comes for the smart employer.
In finance there is this term, 'smart money.' You always want your investors to be smart money. And I think what we are increasingly seeing is that there are smart employers.
And what I think defines a smart employer is an employer that is focused on total cost of care and not just unit cost — although unit cost matters. If you are an employer where most of the employees are sort of working the vagabond model where they are only working with you for around 3 – 6 months, then I get it. That's hard for you and I can see why you are overly focused on unit cost.
But if you are an employer like Walmart who says that our goal is to engage you for your entire life, then you really start to think about total cost of care.
MTT: I know this is a little outside of the focus of this article, but how does the cost of drugs impact this scenario? Is there a piece of this that the providers and the employers could get involved in that would bring down these costs without depending on a mandate or rebate?
JS: So, the part about pharma is the portion related to bariatric surgery. And that is an important part because as you know, that is a group of patients who face their lives with significant challenges.
They are often saddled with the burden of significant specialty pharmacy costs prior to surgery where they are needing a significant number of medications to manage their conditions, including diabetes and hypertension medications.
The results of surgery have been well-publicized, but there is a marked percentage decrease nine months after bariatric surgery in the per member per month pharma cost. And this is credited to the procedure and clinical advocacy in choosing the right patients.
But credit should also go to Walmart in terms of thinking about this. I'm sure you are aware that many employers don't cover bariatric surgery. They still think of it as "cosmetic" and anybody that thinks of it that way, really needs to come out of the dark ages and understand that these are very difficult medical conditions that folks are struggling with.
When you see 70 percent or even a 40 percent decrease in medical and pharma costs in just nine months out from surgery, this is important to an employer that is thinking about total cost of care. They would absolutely jump at that chance.
MTT: So, we talked about medical travel and we talked about domestic opportunities. Is there any role in the international space? We know that a lot of patients travel to the US for medical care, but the perception is still that we have phenomenal medical care, which we do, but there are still several people who travel outside the US just to save money. Does that make sense?
JS: It's a great question but I wouldn't be brash enough to judge what makes sense on an individual patient.
But I would say this: I think what we've shown here is that the very best care for the most complex conditions does usually occur here in the US — with quality and at a cost that great companies like Walmart find acceptable and appropriate.
I think that if I was representing US providers and asked why patients would come here instead of going overseas, I'd say that we do need to hit a point consistently where the quality and the cost represent the best value.
And I think that what we've shown here is that our Centers of Excellence do hit that mark.
Not so long ago, we did a surgery on a wonderful gentleman that flew over from Pakistan for spinal surgery. He was actually a physician, but he didn't come as part of the Walmart program. That reversed direction from the out migrations that you're referencing but I think he had a tremendously valuable experience.
MTT: On the opportunity for bundled pricing for joint replacement surgeries, could you touch upon impact of the preference for utilizing Centers of Excellence? As we look toward the future, can we look to this model for oncology, cardiac and others?
JS: At this point, and it's a nice time in the maturation of this field, that we consider things like spine and joint surgeries as the "old matrons" that have been around for a while and going well.
But when you get into chronic disease, primary care, hypertension, diabetes and real challenging areas such as oncology, I think that's exactly where the market is going.
In fact, Walmart has had a program now for several years where patients can travel to Mayo Clinic for confirmation and diagnosis treatment plans for oncology conditions. I think that is a very powerful program.
What we at Geisinger are increasingly seeing is employees might drive longer distances to access care, since not everyone chooses to take a flight. But employers are connecting with us to talk about the management of chronic and routine conditions, like hypertension, diabetes, obesity and others. Reaching out to COEs like Geisinger is quite logical for them.
The best explanation is that insurance companies are playing an administrative service only (ASO) role and frankly, moving bets back and forth on a table.
In a sense, many insurers are just operating like croupiers in a casino, moving other people's money back and forth. When you're playing this role, there's a natural inclination for the people controlling the money to want to connect with each other directly. I think that is what we are really seeing here.
MTT: If we do, in fact, get Medicare for all, what will be the impact on employer direct contracting?
JS: That is an interesting one. It doesn't scare me, it's just making me think.
Whatever direction we go, none of us want two medical forums in the country: medical care for folks who are paying and the medical care for folks who aren't.
At Geisinger, we strive to have a great service level of care that is provided to every person.
From my experience, when you talk about moving to single payer such as the model in countries that do have single payer, it often evolves into two marketplaces. There is the government funded marketplace and then there's the private marketplace, several hybrid marketplaces, and programs somewhere in the middle.
I guess this does inherently get political, but it is not really a political discussion. I think this is about humanistic values.
I don't want to end up at a point where however we got there, we have two systems of medical care – one for folks who have unlimited resources and one for folks who have another set of resources. We want to continue to strive to provide that same great care for everybody. More specifically, I think that if you did end up in any country where there are two or three systems of medical care, that would likely lead to more people traveling to other locations and places for their care.