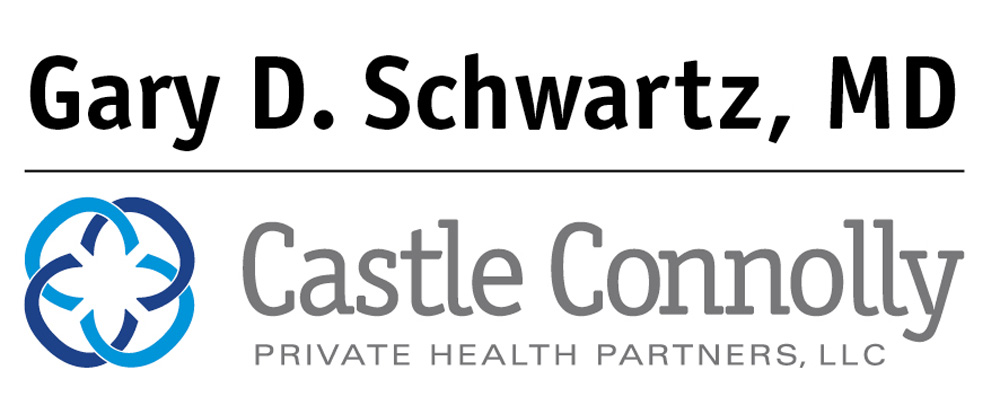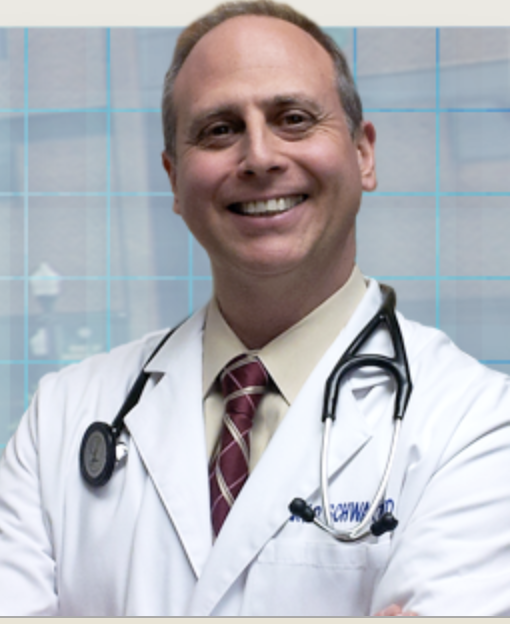 About Gary Schwartz, MD
Gary Schwartz, MD is board certified in internal medicine and has been in private practice for twenty years. Dr. Schwartz completed his internal medicine residency at UMDNJ at Hackensack University Medical Center, and also had an opportunity as a medical student to do his clinical training in London, England.
In addition to being a senior attending in the department of internal medicine, he is also a Certified Medical Director, overseeing several nursing homes in the area. His focus of interest includes primary care and preventative medicine.
About Schwartz Castle Connolly Private Health Partners, LLC.
At Schwartz CCPHP, we believe that strong doctor-patient relationships are essential to helping you achieve optimal wellness. The concierge (membership-based) model at Schwartz CCPHP allows patients to build a strong rapport with Dr. Gary D. Schwartz and collaboratively develop a personalized approach to their health. To learn more or to become a member, click here.
Medical Travel Today (MTT): Give us the five basic reasons why you decided to go into concierge medicine.
Dr. Gary Schwartz (GS):Number one: It's really a model of healthcare delivery that doctors used 30–40 years ago but that has become rarer today as a result of the complexity of medicine and the overall healthcare environment.
We used to be able to spend time with the patients. From all the surveys I read about, it appears that the number one complaint patients have is that the doctor doesn't spend enough time with them.
Today, it is even worse because patients may not even be seeing their own doctor. While I have nothing against nurse practitioners or physician assistants, there's been a huge dilution in the practice of medicine by non-physicians or mid-level practitioners, as they are called. This is being done because the doctor's time has been squeezed and they have had to squeeze that out of the patient.
To me, concierge medicine is just a return to what your general practitioner, family doctor, or internist used to be able to do: Spend time with you, know who you are, know about your life and family, and really be involved with your health.
Medicine is so fragmented now, and, in many ways, patients want and need a better, more personal relationship with their primary care doctor.
When you are sick and you are in the hospital emergency room, who do you want to see? The answer is you want to see your doctor. And that's something that concierge medicine allows me to do.
MTT: In a nutshell, the main objective is to spend more time with patients, avoiding fragmentation, and go back to the old-fashioned way of treating people?
GS:Being there for your patients and knowing about them is the goal.
Everybody knows that the challenge to the typical physician is financial. In order to keep the lights on in your practice and remain financially stable, you need to take care of 2,500 to 3,000 patients – which isn't really beneficial to the patient.
MTT: Do you see the value of electronic health records?
GS: Yes. Butdoctors don't look at patients anymore. They look at the screen.
What concierge medicine means to me is that I can practice at a level where I can really be involved and care for the patient. I can make house calls, visit patients in nursing homes if appropriate, or at least be able to assist them in coordinating that care.
There's this big term out there called "transitions in care," but we haven't tightened up those transitions. If anything, we have broken the system even further.
For example, in the ER now, there is a status of observation where you can't even see your own patient because the patient is placed in observation. They are seen by a doctor assigned to them by the hospital.
If the patient gets admitted and you don't see your patient within four hours, the hospital's mandatory process assigns the patient to a hospitalist. That's not helping with transition. And then the patient goes to a sub-acute and maybe gets assigned to another doctor.
Unfortunately, the hospitals have not helped the independent, private practice primary care doctor. They have not helped us take care of our patients.
If anything, they have added more requirements and more regulations and more restrictions that have made it more difficult for us to take care of our patients. If you can't see your patient in the ER within four hours, they have to assign them to someone else. That's just not in the best interest of the patient.
MTT: Would you want to have it known why you did not choose other avenues – such as getting acquired by the hospital?
GS:Absolutely.
The main reason that I did not get acquired by the hospital or consider affiliating with large multispecialty groups is because to me, that physician is being placed in an environment where the patient is no longer the primary goal.
It's volume medicine: Doctors are being paid in a way that is counterintuitive and counterproductive to providing care for the patient. It really is.
MTT: Do you know of other doctors in the area choosing concierge medicine?
GS:I don't know other doctors who have done concierge medicine in Bergen County.
I have met other doctors at conferences that I attended in Atlanta when I entertained other concierge companies. I met many doctors. From what I learned, many doctors share my sentiments and this opportunity has renewed their spirit in being a doctor.
All of the doctors I met who are doing concierge medicine do it to better serve their patients.
Doctors feel that they've finally gotten back the reason why they went into medicine in the first place, which is to take care of people without unnecessary burdens.
MTT: Are there other doctors in Bergen County who are affiliated with Castle Connolly Private Health Partners' concierge program?
GS:No, there are not.
MTT: How long have you been in this?
GS:If you want an official date, since June 11, 2018.
MTT: What are your initial thoughts about the model?
GS:The patients are happier.
I had a woman come in today who was in the ER the other day. I was able to be there for her and help coordinate her care.
Now I have the time and I'm able to attend to patients in the ER. Patients tell me that this is the best thing they've ever done. They truly feel that they have their doctor by their side.