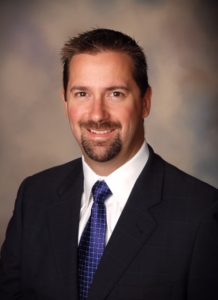 About J. "Jay" Wayne Kempton, Jr. – President & CEO
In 1992, Joseph "Jay" Kempton started his journey with The Kempton Group, which was founded in 1969 by his father, Wayne Kempton. Mr. Kempton became the President and CEO in 2003 and has diligently worked with Oklahoma employers to ensure their employee benefits fit the needs of our community.
In 2011, Mr. Kempton became aware of the free market medical movement in Oklahoma and what it could mean for healthcare in his community. Based on a true belief in transparency, and a genuine desire to change how employers and participants view and purchase healthcare, Mr. Kempton started the Kempton Premier Provider™ program. By partnering with free market minded providers in Oklahoma, Texas, and surrounding states, Mr. Kempton has helped his self-funded clients save millions of dollars in just a few years. Because of this program, now Mr. Kempton is asked to speak to other TPAs, providers, and employers all over the country about how to partner with free market providers to improve employee benefits and lower employer claims.
Mr. Kempton is one of the founding members of the Free Market Medical Association, a board member of the Society of Professional Benefit Administrators, and a member of the Health Care Administrators Association. Mr. Kempton has a Bachelor of Science degree in Business Administration from Oklahoma State University and is Life, Health, AD&D, and Property and Casualty Insurance licensed in multiple states.
About The Kempton Group
The Kempton Group Administrators has been a Third-Party Administrator (TPA) of self-funded employer-sponsored benefit plans since 1969. We are still a family-owned and family-oriented company that prides itself in bringing true value to our clients. Managing a health benefit plan today means more than just processing health claims for members. Self-funded plans are particularly impacted by the rising cost of claims. We do not promote gimmicks; we help you fix your Plan.
The job of a TPA is changing. A good TPA can no longer focus solely on claims processing, having the highest auto adjudication, or the fanciest software, leaving the cost of the claims themselves on the shoulders of other vendors, such as PPO networks. This system of Plan management no longer works in our healthcare landscape. Employers cannot sustain relying on third party vendors who have a financial incentive to allow claims costs to continue on unchecked. A fully transparent TPA who believes in promoting and supporting transparent, free market providers is a game changer for self-funded employers. We are that TPA.
Medical Travel Today (MTT): Here we are in a new year – tell us a little bit about what you do related to medical travel.
Jay Kempton (JK): We are an old school third party administrator (TPA). We've been in the TPA business since 1969, I'm second generation, and so we are just a quiet cottage- type, boutique TPA. After the passage of the ACA, my clients needed a real solution, not more band aids and vendors.
We pioneered self-funded employers working directly with free market providers in 2011 with Surgery Center of Oklahoma. Since then, this program, called Kempton Premier Providers™ or KPPFree, has expanded to include more than 80 free market facilities, with more than 20,000 covered lives. Because of the success of this program, we formed the Free Market Medical Association which helps educate buyers and sellers of healthcare how to reduce cost and increase quality.
MTT: Give us some background on how you got started.
JK: The Surgery Center of Oklahoma is about three miles from our headquarters, and we are very close to each other.
Dr. Keith Smith and I were introduced to one another about eight years ago by one of his neighbors, who happens to be one of my clients – although we didn't know that.
This neighbor has spent some time with me as well as Dr. Smith, and said, "You guys talk the same – you both say the same thing and complain about the same things. You two need to meet."
So, when Dr. Smith and I met, he had never seen a TPA like us. He kind of viewed TPA's as being a part of the insurance industry: part of the problem–not really looking out for the patient, not caring about the actual price as long as you can take a cut of it.
In this meeting, we discovered a mutual passion – changing the healthcare system. Dr. Smith's posted, bundled prices were up to 80% less than the PPO allowable, and my clients, aka self-funded employers, were cash pay customers! There is no big insurance company taking the risk. My clients could waive deductibles, copays and coinsurance, and incentivize patients to "shop" for care. We knew we could make this work.
MTT: Did this approach work for your customers?
JK: The KPPFree program grew VERY rapidly from the onset. All of my clients adopted this benefit structure within the first few months.
Soon, other providers wanted to know if they could offer bundled cash pricing too. Patients were utilizing these services so much because of the high quality and waived out of pocket, that it was an amazing incentive for other providers to compete.
As you can imagine, somebody goes to their local hospital and they have to meet a $3000 deductible. But if they go to a free market facility, they have no out of pocket, the employer saves a significant amount, and the provider gets paid quickly and at 100%.
My clients have saved more than $32 million dollars over network allowables since the inception of this program.
MTT: Did other providers become interested?
JK: Yes! Some of the other good guys in our region said they'd like to start competing with Dr. Smith, and could offer comparable bundled prices.
So, we visited a lot of areas and providers around Oklahoma and Texas, since some of our clients are 8 to 10 hours away from Oklahoma City. We started seeing patients that would be more than willing to drive because their employers were willing to pick up their travel and lodging expenses if they did so.
All of the sudden, we became very active in the domestic medical tourism business.
MTT: Will you be expanding beyond Oklahoma and Texas then to other parts of the country?
JK: We already have. We do business with about 80 medical providers around the country that have adopted principles very similar to the Surgery Center of Oklahoma. Visit our website where we list all of these. It will tell you what we are about with this movement.
Go to http://www.kppfree.com and that will show you everybody that we do business with and their bundled cash pricing. It's all on the website.
MTT: Your clients must be pleased – and your business must be growing. Tell us more.
JK: So if you're a client of the Kemper Group, we administer your self-funded plan, basically it's just what we do.
We don't charge for it. We help the employer structure their benefit plan where the employees will be able to utilize this benefit.
MTT: Are any of these employers contracted with a big health plan?
JK: Employers who do not use Kempton as their TPA can also "bolt on" this program to their current medical plan, regardless of who their main TPA is. Perhaps they had Blue Cross, Aetna, or another large payer, and their TPA wouldn't embrace this idea. Big insurance doesn't want to have anything to do with these types of providers. Just writing a check to a medical provider for a bundled pre-cash discounted price is not part of their business model or their 'revenue stream.'
MTT: What convinced them to use your services and solutions?
JK: The employers started asking us if they could access this free market program without changing their relationship with their current TPA, so we developed a method to 'bolt on' KPPFree.
We would get the employer to sponsor a secondary, limited scope, medical Plan that would run in parallel to their main plan administered by BCBS, for instance.
But this Plan would have its own plan document because it is its own health Plan, it has its own TPA (which would be the Kempton Group), and would provide coverage and services for patients that choose to use one of these free market providers.
MTT: How did employees react?
JK: The way it was implemented, which is probably very similar to other medical tourism programs, is that the member, let's call her Sally – is told by her physician that she needs a voluntary, elective medical procedure, test, imaging, or course of treatment performed. Any procedure that is scheduled, vs. happening on an emergency basis, is voluntary and elective.
Sally could choose to use her regular benefits, but would have to meet her deductible and her coinsurance. Sally wants to see if she could potentially get that procedure done at no cost to her personally, so she calls the Kempton Group.
One of our patient advocates would work with Sally and find out what procedure she needs. The advocate would then determine all of the providers that offer that procedure on a bundled, free market basis and let the member know what the price is at each provider. All of our clients not only waive out of pocket amounts, but they reimburse reasonable travel and lodging expenses. After Sally gets all of the information about the providers offering the service, it is up to HER which provider she chooses, or whether to not proceed.
If Sally decides she does want to utilize a KPPFree provider, our advocates will assist her every step of the way.
MTT: If they decide on your option, how does the process work?
JK: We spring into action and handle all of the logistics like scheduling, referrals, collecting and transferring of medical records, and help make travel arrangements.
We facilitate all arrangements for Sally, who may be coming from across town or traveling from a destination that is in another state.
MTT: How about the billing?
JK: We would arrange to have the procedure done at the best medical provider and that medical provider would send a one-line invoice: not a standard medical claim, but an invoice with one bundled price on it.
Kempton writes a check back to that medical provider out of the employer's claims account within 5 business days from the day the invoice is received. It is a very quick, expedited turnaround of the billing and payment. Luckily there are invoice tools similar to an invoice template to help achieve this.
MTT: How many cases have you handled?
JK: We do about 600 of these cases a month now – It's a significant portion of what we do.
We are a quiet boutique-type TPA. So no, we don't make a big splash. But when I talk the numbers, I do tend to get some people who raise their eyebrows who can't believe we are doing more of these than our imitators (very large TPAs) are.
MTT: Who tells Sally (the employee) to call Kempton? Who makes that initial introduction to the patient?
JK: We do a tremendous amount of education. It is absolutely vital to the success of this program. Education includes employee meetings 1-2 times a year (or more), flyers, videos, handouts, card sleeves, etc. If they are a Kempton TPA client, or we can get pre-certification details, we also make outbound phone calls prior to a procedure letting the patient know they have a better benefit available.
MTT: How about collaboration with the employers?
JK: We educate both the employers and their employees.
For employers, we not only educate on the program itself, but on the free market medical movement as a whole.
But for employees, we also try to finish the conversation with this thought: if you don't understand or didn't really react to anything that we just said, we want you to know that if you need voluntary elective medical care, then you might be able to get it for free so call this phone number.
MTT: Is there a different approach to groups that contract with you exclusive to the health plans?
JK: If you're a full TPA client of the Kempton Group, we review all pre-authorizations to see if the member can use a free market provider. Then we will make an outbound call the patient just to remind them that they may be able to get that surgery for free.
Now, there's another important point: because we do a lot of these, we've started another approach which has really turned into such a beautiful thing…and it's so organic. This actually came from a customer and came about because we listen to our customers.
We are big believers that the American consumer is the best educated buyer of goods and services on the planet Earth. Yes, they can be good at buying healthcare — they just need to be given the proper tools and the proper incentives.
Let's say our member, Sally, calls in to say she's heard about this opportunity to have ankle surgery done at three different free market providers.
But what about Sally's local physician? About five years ago, one of our patients said "Okay, I've got it. I'll make a note and now I've got all these prices. But I really don't want to leave my doctor who has been working with me, and treating my ankle for two or three years. He told me someday I was going to need surgery — and today's the day.
But I don't feel right about just going against his wishes, and going somewhere else. He'd really like to do it at their surgery center or at their hospital. What if I took these prices and showed them to my doctor – what if my doctor could match these prices from these free market providers?
And we responded, "Oh my gosh – what has just happened here?"
We have a patient who is now negotiating with their own medical provider more effectively than any third party ever could. Why wouldn't we incentivize the patient to stay with their own provider as long as the price was the same?
And so…we did just that. We've done around 73 Cash Price Agreements so far. While it doesn't happen very often, it is so incredibly powerful — like the anti-PPO network mentality.
MTT: How do the payers react?
JK: Yes, we love it because it really tweaks the carriers and exemplifies the free market.
MTT: It's really giving customers what they want.
JK: Yes. Absolutely. Any willing seller that the patient wants to use.
If the patient wants to use you to provide medical care, you're going to have to be price competitive — and that's what is at stake for the patient.
LC: What is the typical size employer group that you serve?
JK: We've got employers that range from the smallest at around 40 employees — and that's very small for us — up to our largest single client at about 3,000 employee lives.
LC: And would you ever consider using an international model or an international hospital?
JK: We would.
It's funny that you say that. At the beginning of this interview, I told you that Keith Smith's neighbor told me that I talk like him, and that we needed to meet.
While I was talking to this gentleman, we discussed the concept of medical tourism. I told him what was wrong with healthcare in the US, and that there's these medical providers in Mumbai, India, the Cayman Islands, or Mexico that have been able to come up with a single bundled cash priced — all-in.
My question was, "Why is it that they can do it in India and we can't do it in Oklahoma City?"
That's when the guy came up to me after the meeting and said you've got to meet my neighbor. And so, I arranged to meet Dr. Keith Smith and the rest is history.
MTT: I have to ask you the $24,000 question – what about quality?
JK: I love that question.
We don't do any kind of quality measurements, (although really the networks don't either), there's a big BUT.
We need to be aware of a foreseeable complication. In other words, if there is a post-operative infection, my clients expect the provider to account for this situation and make it right; not to just change the price on the fly.
When the provider sets their bundled prices, they are incentivized to make sure the patient is in, out, and healthy as efficiently, frequently, and often as possible.
Since foreseeable complications are included in the bundled price, if the provider is sloppy, the surgery not only takes longer, but the post-operative issues will eat into their bundled price they were paid.
And all the medical providers are required to correct the situation, and are held to that exact same threshold. In other words, in the case of a foreseeable complication, my employers expect the provider to do the right thing.
But the provider must remain cost competitive. We get a lot of medical providers that will come and talk to us about offering their bundled pricing. BUT, when we start to say that if there are complications that are foreseeable – things that are common place for this type of procedure – we are going to expect that the provider makes it right under the bundled price, some providers fewer procedures because they know they are not as high quality and won't make as much.
Anyone can lie about quality. Quality metrics often just go to the highest bidder through "best hospital lists." But when there's a financial impact tied to the quality outcome, providers have to be more accountable.
As a result, they tend to be more honest – and that's a better measurement of quality than any other that we've found.
We've had folks that will just walk away from the table as soon as we say that. They didn't tell us about their quality issues when they came in the door. But when we started to say what our expectations were in order to buy from them, the discussion became very self-policing.
So far, the quality and the outcomes of all the procedures we've done far exceeds the quality and the complications metrics that we've seen through PPO's. It's not even close.
MTT: Would you ever be interested in bringing to your customers (clients) an opportunity to save on specialty pharma and prescription drugs?
JK: Now you're singing my song! Yes! Emphatically yes! I haven't found a partner yet that I feel comfortable with.
MTT: There is a model, North American Specialty Hospital in Cancun, that is offering this new Rx specialty pharma program which is really saving employers a lot of money. Sound familiar?
JK: I was talking to some folks down in Grand Cayman about this very thing. I like those people, but they actually told me it's not the same drug.
MTT: I know the one in Cancun is using the same drug. Would that option work for you?
JK: Wonderful, I'd love to do this.
My clients are saving significantly on surgery and imaging, but they are coming to me asking when we are going to get a solution for the Rx. We just haven't found anyone that doesn't have a catch. I want a solution without a hitch.
There's just one more thing I'd like to mention that is important to you and your readers.
The other common denominator of these 80+ providers that we do business with is that there's a good relationship with them. In other words, they're not just doing business with Kempton Group.
They understand, and I make sure they understand, that they are doing business with these particular employers in their area, in their neighborhood, and in their community. They are not offering this pricing that benefits the insurance company or my company, they are benefiting their OWN community. The advantageous pricing that they are offering is going to directly benefit the employer and the employee. I think it's important for all to understand that.