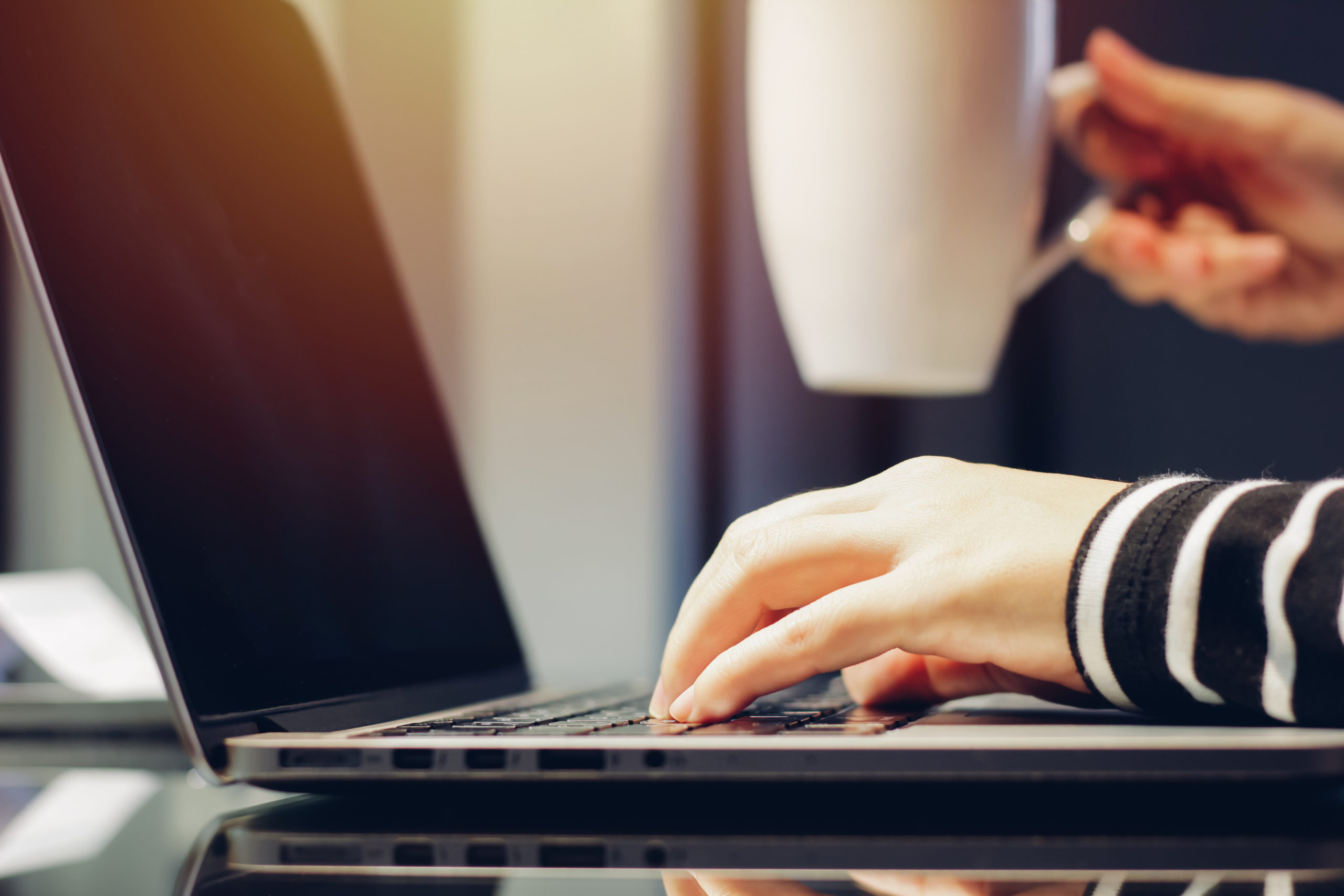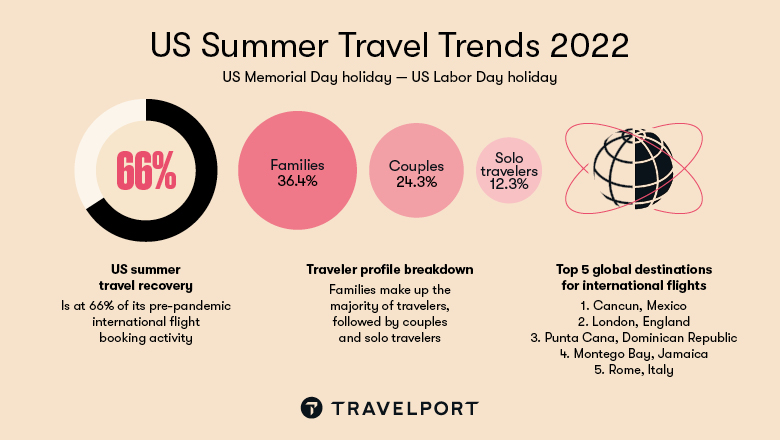 2022 Summer Travel Trends: US Trips indicate travelers want a mix of destination experiences
The United States has recovered 66% of its international summer travel bookings and 75% of its domestic summer travel bookings from 2019, based on flights booked in January through the end of April for trips taking place during summer months.
Travelers from the US want a mix of sea, sand, culture and cities when they go abroad this summer with Cancun, London, Punta Cana, Montego Bay and Rome all ranked in the top five international destinations.
US travelers staying closer to home are taking trips to NewYork, Orlando, Seattle, Las Vegas and Los Angeles between the Memorial Day and Labor Day holidays.
The majority of US flight bookings this Summer are families (36.4%), followed by couples (24.3%) and solo travelers (12.3%).
The most common length of US Summer trips are one to two weeks considering all domestic and international travel taking place between the 2022 US Memorial Day and Labor Day holidays.
LANGLEY, UK, May 24, 2022 – Travelport, a global technology company that powers travel bookings for hundreds of airlines and thousands of hotels worldwide, today released the below booking trends and data highlighting the top international and domestic destinations for US travel taking place between the Memorial Day and Labor Day holidays in the US. While showcasing the top international and domestic destinations for the US, there are encouraging signs for the US travel and tourism industry's recovery following two years of border closures and travel restrictions.
Strengthening Travel Recovery in 2022
According to Travelport's booking data, for summer trips booked in January through the end of April this year, the US recovered 66% of its pre-pandemic international travel bookings, when comparing to international summer trips booked during the same time period in 2019. US travelers eager to head abroad are causing an upward trend in international flight bookings from the US in recent weeks as more international borders re-open and countries around the world are easing their travel restrictions for entry.
While domestic travel recovery rates have outpaced international travel recovery in the US for nearly 2 years, in February 2022, the recovery rate for international travel bookings from the US peaked – and briefly surpassed the domestic travel recovery rate for the first time since the pandemic began.
When looking at flights booked in April 2022 alone, the US recovered a significantly higher portion of its pre-pandemic international travel bookings – reaching 76% of April 2019 booking levels.
Considering all gross bookings through end of April 2022, Travelport's data insights indicate that the US has recovered 69% of pre-pandemic leisure travel bookings and 65% of its pre-pandemic business travel bookings during the summer travel season.
Top Summer Travel Destinations for Americans
The Top ten global destinations for international trips taking place between the US Memorial Day and Labor Day holidays, based on Travelport's booking data:
Cancun, Mexico (#1 in 2019)
London, England (#2 in 2019)
Punta Cana, Dominican Republic (#3 in 2019)
Montego Bay, Jamaica (#7 in 2019)
Rome, Italy (#4 in 2019)
Paris, France (#5 in 2019)
Athens, Greece (#9 in 2019)
San José del Cabo, Mexico (#11 in 2019)
Vancouver, Canada (#9 in 2019)
Ho Chi Minh City, Vietnam (#8 in 2019)
Based on current booking data, the top three international destinations for 2022 summer travel from the US are Cancun (#1), London (#2) and Punta Cana (#3) which were also the top three international summer destinations in 2019, respectively.
While Montego Bay (#4) has climbed into the top five for 2022 from #7 in 2019, Paris has fallen from the top five in 2019 to #6 this year.
Top ten destinations for domestic trips taking place between the US Memorial Day and Labor Day holidays, based on Travelport's booking data:
New York (#1 in 2019)
Orlando (#2 in 2019)
Seattle (#4 in 2019)
Las Vegas (#3 in 2019)
Los Angeles (#5 in 2019)
Honolulu (#6 in 2019)
San Francisco (#7 in 2019)
Boston (#9 in 2019)
Denver (#10 in 2019)
Chicago (#8 in 2019)
Additionally, current bookings indicate Seattle (#3) is vastly outpacing Las Vegas (#4) as a top domestic destination in 2022, although Las Vegas previously ranked higher in 2019.
While Boston (#8) and Denver (#9) edged up slightly by one position for 2022, Chicago has fallen from #8 in 2019 to #10 this year.
For more travel trend data or insights, please contact the PR team at Travelport.
Optime Care Launches First-in-Class, Novel Copay Assistance Program, Uses Block-Chain Technology to Address Drug Manufacturer Partners' Challenges
EARTH CITY, Mo.–(BUSINESS WIRE)–Optime Care, a nationally recognized specialty pharmacy, distribution and patient management organization maximizing therapeutic opportunities for the treatment of orphan and rare disorders, announces the launch of Copay AdvisorSM, a first-in-class, innovative copay assistance program to proactively address challenges and unmet needs of its drug manufacturer partners. Utilizing proprietary block-chain technology as its backbone, Copay AdvisorSM minimizes potentially negative exposure with co-pay and maximizer programs for pharmaceutical manufacturers.
"This program comes at an ideal time, and we are excited to respond to the growing and often unanswered needs in the marketplace in order to support manufacturers in limiting their potential exposure relating to copay accumulator and maximizer programs," says Tiffany Ellen Burt, President and Chief Operating Officer, Optime Care. "This is another service we can offer to new partners, as well as companies where we have deep longstanding relationships. Our goal is to continuously support our partners with these types of programs and services that streamline access to branded therapies and enhance patient outcomes."
She points out that health equity has become a primary concern for millions of Americans who rely upon copay assistance to afford their prescribed medications.
"Optime Care is committed to serving rare patient populations who rely on copay assistance to pay for much-needed specialty drugs," continues Burt. "In an ever-changing healthcare environment, we are committed to helping drug manufacturers reach these patients through innovative programs."
A key differentiator from current programs, Copay AdvisorSM uses blockchain technology, an emerging technology being applied in healthcare systems to preserve and exchange patient data through hospitals, diagnostic laboratories, pharmacy firms and physicians. This digital ledger facilitates accumulation, tracking and reporting of data needed for compliance with new CMS 2023 guidelines relating to health equity.
Burt concludes, "This program was created or developed to address increased criticism from health insurers regarding typical copay assistance programs. We offer an effective alternative to existing copay programs, which are censured with complaints that they drive up costs while steering patients toward higher-priced brands. Additionally, we now can support the drug manufacturers to help ensure these programs are a win-win for all stakeholders."
About Optime Care
Optime Care, Inc. is a nationally recognized specialty pharmacy, distribution and patient management organization offering a suite of comprehensive services tailored to maximize the therapeutic opportunities for the treatment of orphan and rare disorders. Our executive team has partnered in the launch and management of over 40 orphan products and programs while consistently implementing the best brand services for the community. Our experience with small patient populations, coupled with our strategic partnership with AscellaHealth, enhances our services and ability to serve the specialty pharmacy market. Optime Care has dual-accreditation from the Utilization Review Accreditation Commission (URAC) for compliance with specialty pharmacy and the Accreditation Commission for Health Care (ACHC) for specialty pharmacy services that demonstrate a commitment to providing quality care and services to consumers. https://www.optimecare.com/
To view the original press release, click here.
AscellaHealth Awarded as One of The Financial Times' "Americas' Fastest Growing Companies 2022" For Contribution to North and South America's Economic Growth
BERWYN, Pa.–(BUSINESS WIRE)–AscellaHealth, a global healthcare and specialty pharmacy solutions company, is pleased to be recognized as part of The Financial Times' list of "Americas' Fastest Growing Companies 2022," a prestigious award presented by The Financial Times and Statista Inc., the world-leading statistics portal and industry ranking provider. This award goes to enterprises that contribute most heavily to economic growth. AscellaHealth ranked 162 with an Absolute Growth Rate of 417% and Compound Annual Growth Rate of 72.9%.
"We are thrilled to be ranked among this list of high-growth companies," says Dea Belazi, president and CEO, AscellaHealth. "Our 1,556% four-year revenue increase validates our innovative patient-first approach for optimizing compliance to therapy, health outcomes and quality of life for patients with complex, chronic conditions or rare diseases. Our clinical programs help to ensure that specialty drugs are seamlessly accessed by prescribed patients."
Out of the millions of active companies in North and South America, only 500 firms were awarded in the list. Criteria for inclusion included revenue of at least $1.5 million generated in 2020, an independent entity and not a subsidiary or branch office, and revenue growth between 2017 and 2020 that was primarily organic and not internally stimulated.
Belazi adds, "With health taking center stage over the past couple of years, it is no surprise that many of the fastest-growing companies on this list are medical technology solutions. Our success is built upon proprietary technology processes for innovative programs, as well as our comprehensive portfolio of customized, tech-enabled specialty pharmaceutical and medical management services."
About AscellaHealth LLC
AscellaHealth is a global Healthcare & Specialty Pharmacy solutions organization serving patients, payers, life sciences and providers, offering a comprehensive portfolio of customized, tech-enabled specialty pharmaceutical and medical management services. An Inc. 5000 2021 winner, AscellaHealth's unique, patient-centric approach supports its strategic partnership with Optime Care and is built upon proprietary technology processes for innovative programs and services optimizing health outcomes and quality of life for patients with complex chronic conditions or rare diseases that require specialty medications and/or gene and cell therapies. Visit www.AscellaHealth.com.
To view the original press release, click here.
DataLink's EvokeSmartVisit Increases HCC Recapture Rate, Improves Healthcare Performance and Patient Outcomes for Large Network Provider Group
TAMPA, Fla.–(BUSINESS WIRE)–DataLink Software (DataLink), a leading provider of integrated population health applications and value-based care performance management solutions, documents the impact of EvokeSmartVisit (ESV) in a case study reflecting the experience of a large network provider group—300 provider practices, 800 clinicians with 300,000 patients. The network provider group chose ESV, a module within Evoke360, because it can be used at the point of care to document chronic conditions, close gaps and track wellness goals.
"The group utilized ESV to capture and manage patient data for health assessments, with results documenting a remarkable 7:1 ROI," says Kevin Steele, chief executive officer, DataLink. "ESV enabled the group to achieve 80+% recapture rate, over 90% chronic hierarchical condition category (HCC) recapture and quality gap closure. The solution enabled the network provider group to identify and proactively close gaps in care, while also revalidating HCC data originally captured from the patient's medical record and creating transparency in managing utilization for practices. ESV helps practices enhance care quality, improve patient engagement and impact individual health."
EvokeSmartVisit can be utilized in a provider's office, home or retail clinic and used with or without an EHR, eliminating documentation duplication in multiple platforms. Evoke360's risk adjustment engine manages current, projected and suspected conditions and values. This helps to empower better health for value-based care initiatives by offering interoperability in a payer-agnostic, meaningful use-certified point-of-care solution. This solution is designed to facilitate new strategies and expanded payment models that are most likely to generate substantial savings and improve quality.
A full year of accumulating medical expenses is required to accurately determine HCC predictions for future healthcare utilization, making the correct assignment of HCCs critically important for Medicare Advantage (MA) plan providers.
"ESV has helped the network provider group's practices increase opportunities for recapturing HCCs, greatly improving their ability to manage patients and ensure proper coding," concludes Steele.
About DataLink Software
Founded in 2001, DataLink is a healthcare technology company that empowers better health by delivering real-time data aggregation, EHR connectivity, and dynamic dashboards and reporting to payers, providers and care partners. DataLink promotes the collaboration of multiple stakeholders across the care continuum, providing a holistic, real-time view of the entire spectrum of patient data, and its intelligent, data-driven solutions drive value by reducing the cost of care, improving quality scores, ensuring risk adjustment accuracy, and simplifying healthcare navigation. For more information, visit www.datalinksoftware.com.
To view the original press release, click here.
Global Warming Could Mean Less Sleep for Billions
By Dennis Thompson
USNews.com— Anyone who's tried to sleep on a hot summer night knows how hard it is to nod off when the mercury is rising.
So it's no surprise that global warming is likely to cost people more and more shut-eye as temperatures around the world rise.
By the end of this century, individuals could be subjected to at least two weeks of short sleep each year due to high temperatures driven by global warming, a new study projects.
To view the original article in its entirety, click here.
Payers, providers and states likely have more time until COVID-19 health emergency ends
By Robert King
FierceHealthcare.com— The healthcare industry likely has until this fall to face the end of the COVID-19 public health emergency (PHE) as a key deadline came and went with no notice Monday.
The Department of Health and Human Services (HHS) promised to give states a 60-day notice when the PHE will end, giving a vital heads-up for when a slew of regulatory flexibilities that have been in place for more than two years will go away. The current PHE will run until July 16, and HHS did not provide any notice that it won't be extended again for another 90 days.
To view the original article in its entirety, click here.
Health officials confirm first U.S. case of monkeypox virus this year in Massachusetts
By Annika Kim Constantino
CNBC.com— U.S. health officials late Wednesday confirmed a case of the monkeypox virus in Massachusetts, the first to be reported across the nation this year.
The Centers for Disease Control and Prevention and Massachusetts health officials are investigating a case, which was identified in a man who recently traveled to Canada.
The patient is hospitalized and in "good condition," and officials are working to find people who may have been in contact with him while he was infectious, the Massachusetts Department of Public Health said.
To view the original article in its entirety, click here.