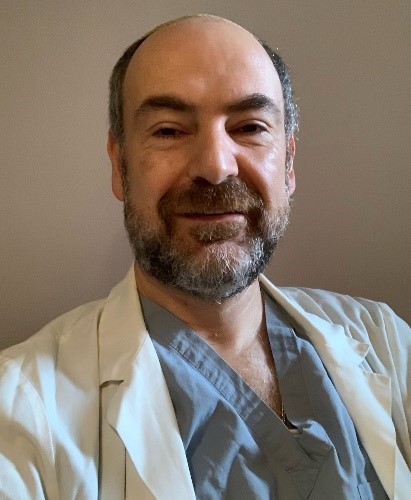 About Adam M Brodsky, MD MM
Adam M Brodsky, MD MM is an interventional cardiologist and medical advisor working with CardiacSense in Caesarea, Israel. He attended Medical School at Northwestern University Medical School in Chicago, IL, earning a combined MD MM degree at the medical school and the JL Kellogg Graduate School of Management. He completed his internal medicine training at Beth Israel – Deaconess Medical Center in Boston, MA and then returned to Chicago to complete his general cardiology and interventional cardiology training at Northwestern University. Dr. Brodsky currently lives in Ra'anana, Israel with his wife and four children and continues to practice medicine both in Israel and the United States.

About CardiacSense
Backed by a strong IP portfolio that includes developments in optics, mechanics and signal processing, CardiacSene has developed a unique, state-of-the-art watch for long-term, continuous monitoring of heart arrhythmias (such as atrial fibrillation or cardiac arrest) and blood pressure. The highly accurate CardiacSense watch is currently in the advanced stages of FDA and CE certification.
The CardiacSense watch is an enabler of big data analysis and AI-backed healthcare since it provides 24/7/365 monitoring of vital signs.
CardiacSense CEO Eldad Shemesh, a 20-year veteran of the Israeli Air Force, founded the company in 2012. The expert multidisciplinary team at CardiacSense combines years of clinical, technical and business experience.
Cardiac Sense is backed mostly by private investors and Angel investors.
The company is located in Caesarea, Israel. Visit us at https://www.cardiacsense.com/.
---
Medical Travel & Digital Health News (MTDHN): Please give us a little background about you and this venture.
Dr. Adam Brodsky (AB): I'm an interventional cardiologist living in Israel with my family and a medical advisor for CardiacSense. I know the cardiac space well and am a champion of this technology, which is for use by both physicians and consumers.
As prescribed by your doctor, the CardiacSense watch offers a noninvasive way to provide long-term monitoring of the heart to improve outcomes. CardiacSense saw this need from the physician perspective which dovetailed with the latest user-friendly technology. This watch will have big implications for how we treat diseases, specifically cardiac arrhythmias.
Sensor technology is a big field, with sensors in clothing, hats, glasses and, of course, digital technologies. At this point, we are all familiar with how the Apple watch works. The CardiacSense is similar. This simple and easy-to-use technology will allow clinicians to glean the same medical information that once required unwieldy and complicated devices.
MTDHN: So, you strap it on every day as a continuous monitoring device?
AB: Basically, yes. You can even sleep with it on and probably should because it monitors continuously. The more you wear it, the more accurate it will be. Cardiac arrhythmias can happen at night, too. But you can also take it off when you wish.
MTDHN: Can it detect heart disease before you think you have it?
AB: Heart disease comprises a large spectrum of different diseases. For those who have had heart failure there is concern for heart failure exacerbation. For example, the lungs might fill up with fluid and the patient has to be hospitalized or patients will experience shortness of breath.
The watch has a variety of measuring mechanisms, including sensors for oxygen levels, heart rate and respiratory rate. We can determine an issue before the patient is aware of it and transmit that information to the doctor so that they can intervene at an earlier state.
By the time the patient has shortness of breath, they must go to the ER. It is very hard to intervene over the phone at that point to keep the patient out of the hospital. When an issue arises, we can call the patient and make medication adjustments or have them come into the office. You can also arrange a video conference call, help them relieve exacerbations and avoid hospitalization.
MTDHN: Can you wear it when traveling to another country?
AB: Yes. It stores the information and is connected to your smartphone through an app. It stores and automatically generates reports through a cloud service and is then sent to the patient's physician.
The watch will havea touch screen display like a smartwatch with sensor pads on the side for placing your fingers to record an electrical EKG as a confirmatory measure. The watch measures the pulse continuously and gathers heart data from that.
As a doctor, I'm used to looking at cardiograms or EKGs. This is unique in that it it's been FDA approved to correlate that data with electrical data. The electrical impulse we see on the EKG should equal the heart squeezing, which should equal the pulse rate. This allows us to measure both electrical and pulse with strikingly high accuracy.
MTDHN: Who does it alert first?
AB: It can be configured in different ways based on the patient's needs. For example,it will alert you if it detects atrial fibrillation, which can lead to stroke. This is the main condition we are trying to prevent. You can create a report through the app and send it to your doctor. Depending on how it's configured, it might also send an alert to your doctor automatically.
It works along the lines of a pacemaker or defibrillator. The information automatically goes into the patient's chart and is reviewed. The physician calls the patient if there is a heart issue.
MTDHN: So, the doctor has to be aware of the watch before they can prescribe it for the patient?
AB: Yes, whether it's from a doctor in an HMO, healthcare company, hospital or private practice.
MTDHN: Would the watch be prescribed for an asymptomatic patient?
AB: It's not for the general consumer but for people who are experiencing symptoms, such as palpitations, fainting, dizziness and so forth. It's also for people who have had a stroke or are at risk of having one, as well as those with a family history of stroke.
For those with chronic disease, such as chronic obstructive pulmonary disease or congestive heart, the watch tracks your vitals over time. The watch can also be used for an asymptomatic patient as a way to monitor patients remotely, which has been critical during the pandemic. The vitals data is all right there.
The watch measures oxygen saturation, respiratory rate and so forth. This would also be important for medical travel patients who need to be monitored after a procedure.
We have CPT codes for remote monitoring for the physician, initial visit, initial patient construction and for monthly monitoring so that the physician can be reimbursed by Medicare. It's an ideal complement to telehealth.
When a patient buys this watch, it's theirs for life, unlike other remote monitoring devices.
MTDHN: Is there anything on the market that's competitive to this?
AB: I'm not aware of anything on the market that does what this does. The closest device is a Holter monitor with wires and patches. This is much easier and simpler to use. A medical grade tool that will be familiar to most consumers.