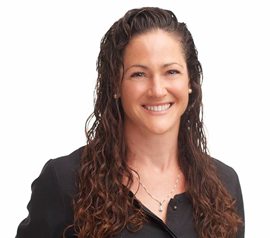 About Jennifer Goldsack
Jennifer C. Goldsack co-founded and serves as the executive director of the Digital Medicine Society (DiMe), a 501(c)(3) non-profit organization dedicated to advancing digital medicine to optimize human health. Jen's research focuses on applied approaches to the safe, effective, and equitable use of digital technologies to improve health, healthcare and health research. She is a member of the Roundtable on Genomics and Precision Health at the National Academies of Science, Engineering and Medicine.
Previously, Jen spent several years at the Clinical Trials Transformation Initiative (CTTI), a public-private partnership co-founded by Duke University and the FDA. There, she led development and implementation of several projects within CTTI's Digital Program and was the operational co-lead on the first randomized clinical trial using FDA's Sentinel System.
Jen spent five years working in research at the Hospital of the University of Pennsylvania, first in Outcomes Research in the Department of Surgery and later in the Department of Medicine. More recently, she helped launch the Value Institute, a pragmatic research and innovation center embedded in a large academic medical center in Delaware.
Jen earned her master's degree in chemistry from the University of Oxford, England, her masters in the history and sociology of medicine from the University of Pennsylvania, and her MBA from the George Washington University. Additionally, she is a certified Lean Six Sigma Green Belt and a Certified Professional in Healthcare Quality. Ms. Goldsack is a retired athlete, formerly a Pan American Games Champion, Olympian and World Championship silver medalist.
About the Digital Medicine Society
Founded in 2019, the Digital Medicine Society (DiMe) is the first professional organization for experts from all disciplines comprising the diverse field of digital medicine. Together, we drive scientific progress and broad acceptance of digital medicine to enhance public health.
DiMe is a 501(c)(3) non-profit organization dedicated to advancing digital medicine to optimize human health. We do this by serving professionals at the intersection of the global healthcare and technology communities, supporting them in developing digital medicine through interdisciplinary collaboration, research, teaching and the promotion of best practices.
For more information about DiMe and to view our work please visit our website.
---
Medical Travel & Digital Health News (MTDH): Please start by telling us a little bit about yourself and how you got involved with this organization.

Jennifer Goldsack (JG): I grew up in England and didn't move to the States until my mid-20s.
I was part of the Europe Olympic team for the 2008 games in Beijing, which was an extraordinary experience.
With the same enthusiasm and sense of mission I enjoyed as an athlete, I was able to train myself into my career in healthcare research.
For a number of years, I worked at the University of Pennsylvania and then co-founded a pragmatic research institute within the community health system in Delaware.
After relocating to Florida for my husband's work, I took a job at the Clinical Trials Transformation Initiative, a partnership co-founded by Duke University and the FDA. Just as I was starting the assignment, the FDA had asked them to tackle a body of work around the use of digital technologies in clinical trials. The goal was to specifically understand why clinical research had been slow to adopt technologies, consider that its use was ubiquitous everywhere else.

I had the privilege of leading that whole program for a number of years. Over time, I came to believe technologies can really improve lives by providing more patient-centric care and higher quantity care at a price that individuals can afford.
The idea is to democratize high-quality health care and reduce costs in the way we develop new medical products.
I believe strongly that technology and digital health are not a silver bullet solution. But they are important tools – not simply because of widgets, gadgets and sensors, but because they can generate and use digital health data.
Arguably, we can learn a great deal from health data information when it is accessible. We have computing power to be able to analyze huge amounts of information for the betterment of individual health.

MTDH: Did you see any barriers to adoption?

JG: Yes, and this gets to the heart of using these tools to provide precision care and to target new therapies and more accessible, higher quality, and affordable delivery of care.
We are at a critical moment when digital health could be truly transformative.

That was the emphasis behind the Digital Medicine Society (DiMe)—thinking about being a big tent society and professional home for all of the experts who need to be at the table for digital health to be successful, improve lives, outcomes, health economics and equity — without doing harm.
This is an extraordinarily interdisciplinary field, but currently there's no common unifying language. Regulations are struggling to keep pace with the rate of innovation, and it's all happening in silos. There is tremendous innovation happening in clusters around the world, but US health policy is written inside the Beltway.
Until we can have a truly unified field with a common language and shared cultures and sense of what "good" looks like, with an understanding of how to deploy these tools safely, effectively, equitably and ethically, we're going to struggle and not fully realize the promise of these tools.
Basically, that's what we do here at DiMe. We spend all of our time trying to support the many different individuals who are working hard to reform this space and work with them to tease out the promise and address challenges.

MTDH: I am following this digital explosion in the marketplace, particularly as it relates to patient access to care. Can you go into how you see that improving? Is it going to go at light speed or just plod along?

JG: I think it's up to us as a new industry to define how that happens. As a result of the COVID-19 pandemic, more patients than ever have been exposed to novel ways of accessing their care beyond visiting the clinic.
Whether that's the use of remote monitoring technologies, virtual visits with their regular provider or interaction with a new kind of medical practice, these virtual-first medical practices are emerging. They are built around bringing care to the patient. All of these new mechanisms are very exciting when we think about improving patient centricity and patient access.
However, I think factors like reimbursement have to keep pace with this innovation. In addition, we cannot overwhelm our clinical colleagues who are already burdened with administrative tasks. We need to think about reworking clinical workflows so it's possible to provide new approaches to care and new ways for patients to access their care.
Of course, as we move towards the broad use of digital health technologies to deliver healthcare, we must ensure that those who aren't digitally literate or can't afford the technology don't get left behind so that everyone benefits.

MTDH: Have you found that some senior citizens may not have digital technology acumen?

JG: No. Actually, there's an emerging body of evidence that doesn't support the theory that older Americans necessarily struggle to interface with technologies.
I think of members of my family who are now retired, for example, who spend an awful lot of time on social media, for example. In some way, they're probably more savvy than I am because they spend more time with it and are very comfortable with a smartphone.
We have to first debunk the myth that older Americans won't be able to take full advantage of these technologies.
Second, every time we make a decision about using digital health we need to focus on usability.
What's more of a barrier is that these individuals might not have the dexterity to interact with digital tools because of a medical condition, or the fact that they're living on a fixed income may preclude them from being able to afford the technology.
I don't think it's in our best interests to make assumptions about different members of society who we're trying to better serve through the use this technology. Rather, we need to think about how to best meet their needs and ensure that care delivered using technology is accessible to everyone.

MTDH: Tell us more about the organization and your focused goals.

JG: Ourgoal is to advance the safe, effective, ethical and equitable use of digital medicine and digital health technologies to improve lives. The way we do that is to support each individual who's working in the field. We have currently several thousand members across 43 different countries and six continents.
We're still a new organization, but we have quickly established the professional home where people can come to meet collaborators in the field, learn and co-create the new frameworks, standards and language needed to develop digital technologies in the service of health.

We also do work with civic organizations, whether it's through supporting organizations or with specific partners on projects. We pursue our mission through three main types of activities: research, communication and education, and community building.
We've published over 30 peer-reviewed manuscripts in the last year, which is an extraordinary work rate. Many of those are from grassroots initiatives within our membership.

A great example of why our work is important: People talk about AI and machine learning, but if you haven't been trained in data science, what does that actually mean for a clinician or decision-maker on the healthcare side who's getting pitched five, six times a day by different vendors wanting to sell them technical products? How can they evaluate them?
We provide that support and education. As a professional home, people share ideas and knowledge, find collaborators and, importantly, establish some sort of cultural and ethical norms about how we, as a new field, want to use technology in the healthcare space.
MTDH: It sounds like your organization has fared well. Can you tell the readers more about your members and what they do?

JG: We've achieved as much as we have because we have an extraordinary membership and, given the level of activity in this space right now, the timing was right.
There was a real appetite for an organization like ours to come in and be that rising tide that lifts all ships during a time where this space is just innovating like crazy.
I think what's really important to us is working closely with our colleagues, the FDA, and European Medicine Agency (EMA). In fact, we have members of the FDA and EMA, as well as National Institutes of Health and the Veterans Affairs, who attend our strategic advisory board and scientific leadership board. We always try to ensure that everything we do is in lockstep with a regulatory viewpoint. While it helps us to be in conversation with them, it is not up to us to evaluate or assess biomedical products. That's the job of the regulators.

We try to put existing requirements into plain language so that folks who haven't worked in a regulated space feel comfortable getting closer to these regulatory agencies, contacting them when they are developing medical products.
We even have a federal comment tool kit available to the community at large to encourage technical and clinical experts to comment on new regulations that are coming out that will govern the field of digital health going forward.
Again, we try and provide that interface, but we absolutely do not have any regulatory reach.

MTDH: Tell us how you see digital health promoting access to care related to adult patient monitoring, telemedicine and other devices.

JG: I think there's some legislation at the state level, but digital health should absolutely be able to transcend the barriers of place and bring patients who need access to specialist care together with that specialist, regardless of where those two individuals reside.
That's one aspect of digital health that is particularly exciting.
When we look at regions that have the best care and superimpose that with the most comprehensive broadband coverage, we see a match. These areas also typically match with higher education levels and higher socioeconomic status.

To use technology to overcome the boundaries of place and to improve access to care for everyone, we need to focus on strategies to support folks who might not be digitally literate yet to make sure that super-fast broadband is not required. Unless we do that, we are not going to be able to capitalize on the promise of digital health.
I believe we can overcome all these challenges, but we have to be intentional. That really comes down to why we exist here at the DiMe, to try and champion an intentional approach in developing and deploying different strategies in digital health.

MTDH: Will we be able to keep up with the current public health crises and other pandemics down the road?

JG: Even before we had to deal with COVID-19, we faced serious healthcare challenges. We have had huge disparities in healthcare, unfortunately, for a very long time.
Sadly, COVID-19 has exacerbated those while also shining a light on them. Healthcare has not been terribly affordable for a very long time, either for society or individuals and we have not had the highest quality care here in the United States.

While the pandemic has been a tragedy, I think it will serve as an accelerant for change. In fact, it already has done that for digital health.
Post-pandemic, these challenges will remain that digital health alone can't solve.
MTDH: Would you bet on the relaxation of regulations continuing for telemedicine?

JG: I think of it, not as relaxing regulations, but rather embracing digital approaches.
When we consider reimbursement and the deployment of technology, we must insist on quality. If anything, I would venture to say they will hold digital health to a higher standard. Digital is meeting that challenge almost across the board and I hope this will continue.