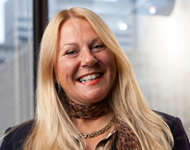 About Liz Mariner-Ford
Liz brings to Risk Strategies over 25+ years of insurance and reinsurance experience. She is skilled in health, life, disability, the worksite market and a wide range of accident products, on both a group and individual basis. Well known for her talent in advising and collaborating with clients on growth strategies, product diversification and risk management techniques, Liz is equally recognized for her strong relationships within global reinsurance markets.
Liz started her career in 1982 at General Reassurance, the former life division of General Re, as an Account Manager in the Financial Reinsurance Unit and last held the position of Vice President of Treaty Operations for all individual and group life, accident and health lines of business for its successor company, Life Reassurance Corporation of America, subsequently acquired by Swiss Re.
In 1992, Liz joined Towers Perrin, where she became a Principal and held the position of Vice President responsible for business development in the Risk & Financial Services' Life, Accident and Health Reinsurance Practice.
Liz is currently the Chair of the SIIA International Committee and a former Director of SIIA, holds an MBA from the University of Connecticut, a Bachelor of Science Degree in Pre-Med from Boston College, and professional designations as a Chartered Financial Consultant (ChFC), a Chartered Life Underwriter (CLU), a Health Insurance Associate of America (HIA), a Certified Employee Benefit Specialist (CEBS), and a Fellow of the Life Management Institute (FLMI).
About Risk Strategies Company
Risk Strategies is a national insurance brokerage and risk management advisory firm offering sophisticated risk control and insurance placement advice. Risk Strategies has over 1,500 employees, more than 70 office locations throughout the United States and is ranked among the Top 20 insurance brokerages in the United States by Business Insurance magazine and is the 15th largest privately-held broker in the U.S. placing over $3 billion in annual premiums. Allied with colleagues in both the insurance and reinsurance segments of the market, we represent unparalleled strength, breadth, experience and market presence particularly in the health care reinsurance space.
As the Reinsurance Team of Risk Strategies' National Health Care Practice, we are intermediaries/consultants with seasoned expertise in the life, accident, health, disability and special risk markets. Our experience makes us knowledgeable and connected. Our culture makes us nimble and responsive. We combine a deep understanding of the global reinsurance industry with an in-depth knowledge of your business to help you solve your challenges and create new opportunities. Our know-how and connections bring you the right risk partner and solutions. Visit us at www.risk-strategies.com/reinsurance.
---
Medical Travel Today (MTT): Tell us about Risk Strategies Company and your role in the company.
Liz Mariner-Ford (LMF): We are a nationwide specialty broker and consultancy. I function as a trusted advisor in the field of risk management, specializing in group life, accident, health, disability and, of course, the ERISA self-funded arena.
My clients are typically insurance companies, captives, managing general underwriters and/or distribution sources that come to us seeking relationships in order to form a new or transition an existing program.
I'm part of the reinsurance team within the National Health Care Practice of Risk Strategies.

We are a reinsurance intermediary. What often happens is this: I will be doing a Q&A with a prospect to try to understand what keeps them up at night or what opportunities they wish they were able to pursue, and what we might bring to the table to help solve their issues.
I look for opportunities to bring reinsurance relationships to the table, either for solving capacity issues and/or solving intellectual capital needs, for product diversification and/or entrance into new target markets.
I've had many of my clients since the 1980s and 1990's; they are like my extended family.

MTT: You mentioned that the company is headquartered in Boston and the Reinsurance Team is based in Minneapolis, but you work nationally. How did you get involved, or what is your interest in the international marketplace?

LMF: While conducting reinsurance business at a previous job, I gained experiences in Mexico, Argentina, Columbia and Brazil where I'd talk to the local insurance professionals who wondered why there was not more U.S. interest down there.

Risk Strategies Company was very supportive of my interest in getting back into the international scene. That's one of the many reasons I was very excited to join what is now called the Risk Strategies Reinsurance Team.

MTT: What is your company's international footprint?


LMF: Most of our clients are domestically focused, but often have international affiliates. Also one of our verticals is high net worth individuals and companies, and they tend to be international and have risk exposures around the world.
One of our other verticals is the marine and yacht business, which can also be global. I think last year we acquired 23 plus companies, each bringing some new specialty expertise with it or adding to existing verticals. If we're going to absorb other companies, we want them to be a cultural fit and share our client focus and entrepreneurial spirit.

MTT: When did you take over the leadership of the SIIA International Committee?

LMF: I became chairperson officially at the end of 2018 for the 2019/2020 year. This is my second time as Chair.
A group of executives from SIIA membership had self-appointed ourselves as ambassadors to further the dialogue in the international community to both share and learn best practices in the self-insured and alternative risk transfer markets. We've traveled to different parts of the world to culturally share business practices, learn their business practices and see if there were any opportunities for business expansion.
With SIIA I've traveled to Singapore, China (Shanghai, Beijing), Costa Rica, Thailand, Mexico and London.

MTT: Tell us about the SIIA Committee and the opportunity. I think we could focus on the upcoming September 2020 meeting in the Cayman Islands and what you are expecting to see.

LMF: We are very excited that we are going to have our next meeting in the Cayman Islands, although, due to the COVID-19 development we decided to postpone our SIIA International Conference until 2021.
I think it will attract a lot more attendance, with the coming together of business leaders from other countries sharing their best practices and exploring new trends and ideas.
We're looking for sponsors – law firms, accounting firms, government organizations, consultants, insurers and reinsurers. Health City will be our anchor sponsor, with several other companies who have indicatedtheir interest in sponsor support roles.


MTT: What do you think about the coronavirus and its impact on the Cayman Island meeting?

LMF: I have spent most of my entire life in the risk management area and one thing I've learned is that a lot can happen that doesn't happen. However, as of March 26th the wave is much bigger than originally anticipated. The faster everyone takes the threat seriously the faster we will get through this. It is a global event and is taking unprecedented government and private partnerships to fight the impact.
Our fears are usually worse than the reality, and I hope that is the case here in the long run. The pundits are predicting a sharp V recession, so as fast as we fell, we should bounce back. I believe there will be a lot to analyze and learn from when we are recovering.
I am optimistic for 2021.

MTT: Anyoneinterested in joining the SIIA International Committee outreach can contact MTT.

LMF: Yes, this committee is very enthusiastic and excited about growing our international interest by either attracting new members to sign up and/or cultivating international interest in existing members.