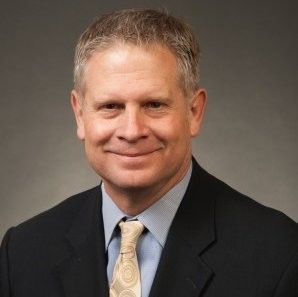 About Mark Beeston
Mark Beeston joined Vioguard June 2017 as vice president of Sales and Marketing. Prior to Vioguard, Beeston lead a sales team for Option Care in the post-acute business sector. He spent six years in various sales leadership roles from regional sales director to director of Strategic Solutions at Hill-Rom Company. Prior to joining Hill-Rom, he served as a regional sales director for the Hospital Products unit for Hospira Worldwide (formerly Abbott Labs). During his 13-year tenure at Hospira/Abbott he filled several diverse roles such as senior engineer in new product development, sales executive, Contract Marketing and district sales manager. He holds a Bachelor of Science in Manufacturing Engineering from Brigham Young University. He enjoys snow skiing, water skiing, and multiple other outdoor activities with his wife and six children.
About Vioguard
Vioguard, a Washington State-based company, is passionately committed to developing products that enhance the effectiveness of infection control strategies without compromising productivity or accuracy. This is done by working with industry professionals to develop the most effective infection control solutions possible.
Vioguard was established in June of 2008 by technology professionals interested in developing products to combat Healthcare Associated Infections (HAIs), a problem plaguing hospitals around the world. Visit www.vioguard.com.
---
Medical Travel Today (MTT): Explain how you got involved in Vioguard, and what is your vision for serving the market?

Mark Beeston (MB): I've been with Vioguard about three years and it's been a really interesting ride because we started off with our self-sanitizing keyboard product—the only FDA-cleared UVC product on the market.
We took that technology and got FDA clearance using Defender, our patented technology that incorporates the use of a dosimeter into the firmware that allows each cycle to be managed and monitored in a compliance function with the use of that dosimeter.
We took that same technology and embedded it into our Cubby and Cubby+ product, which was our next product that we developed.

A dosimeter is an electronic device that measures UV energy. The bulbs emit UV energy, and the bulb energy can vary slightly based on room temperature, bulb life and so on.
With our device, the dosimeter will not turn off the Cubby or Cubby+ until it reads the programmed amount of UV energy. Once that is achieved the unit will say "Ready" on the digital screen. That way you know are confident you're getting a UV kill each time you use it.

That is a really important compliance function that our competitors don't have. Some of our competitors will ask users to put a dosimeter card into their device once a month to calibrate it.

MTT: Using the computer keyboard as an example, tell us how it works?

MB: All of our products are enclosed, so the UV is always enclosed and the user is never exposed to UV. That is a safety feature with our products. The Defender comes complete with its own keyboard built in and works like a CD player.
You wave your hand in front of the Defender and the keyboard comes out and is disinfected. The user types on the keyboard. Of course, we know that pathogens travel so anything on the user's hands is left on that computer keyboard. The Defender is on a timer, so when you stop typing the timer starts, and when the timer ends the keyboard goes in by itself or you can send it in manually.
The keyboard will run through its disinfecting cycle so it will be disinfected for the next user, with no pathogens left behind.

The Cubby and the Cubby+ are similar, but they are more of a manual system. The Cubby+ has a clear shelf that enables you to receive a 360-degree disinfection with bulbs on the top and bottom. They are using it in hospitals for their Vocera phones, Zebra phones, iPhones, stethoscopes, safety glasses, watches and badges. Badges never used to be disinfected, but these are used to open every door in the hospital and constantly being touched without being disinfected.
Hospital staff are thrilled to haveCubby+ because they use many of these hand held items throughout their day and then bring these items home. Now they can all be disinfected to 99.99 and higher. The Cubby is a version where you can put your keyboard, mouse and mouse pad to provide 180-degree disinfection.

MTT: Who do you sell to?

MB: We've sold to hospitals, police departments, 911 call centers, county facilities, prosecutor offices, communication centers, hospitality industry, libraries, dorms, gaming centers and so forth.
Here's the challenge: phones are filthy, and 92% of all phones carry pathogens, and 96% of all keyboards carry pathogens.
The transmission of the pathogens is a big culprit for spreading disease, so providing a web of protection is really where our products make an impact. The key is being able to put them into workflow so people can use them every day.

It's also useful in hotels rooms for disinfecting TV remotes or pens. Anything can go into the Cubby+ because there's no heat generated and it's really effective.

MTT: Is there any exposure to UV rays?

MB: No, our UV is enclosed.
But there are devices out there where you have to be careful about that. This is why the healthcare environment has really been a great entry point for us. They do a great job of due diligence around purchases, ensuring there are studies and that the product is effective.
As we become more mainstream, it will be important to know that our technology was vetted in the hospital setting and is being used in surgery centers, dental offices, optometry offices and so on.
There's a certain bandwidth of energy on the UV scale that you have to hit to get a proper kill of virus and bacteria, but many devices fail to do this. We achieved 254 nm within the short wave UV scale.

MTT: What is the benefit of using this over using some kind of a spray or disinfectant?

MB: Sprays have chemicals and, while they are proven to work, infection preventionists in the hospital tell me that when you're using chemicals to clean a surface you have to leave that surface wet long enough. Otherwise, you're not killing the virus and bacteria properly.
With UV, you know that in a Cubby+, it's getting the full surface disinfected. You don't have to worry about timing or coverage. Chemicals are also an irritant to your skin and have a negative impact on the environment.

MTT: Where can people buy this?

MB: Currently, for Vioguard products you go to www.vioguard.com We want to maintain a certain level of legitimacy because our products are hospital grade and we need to be careful where we launch and how we go about that, but we want to make sure our products are available for consumers as well.

The cost of Cubby and the Cubby+ is under $1,000. We're priced where healthcare facilities can afford to purchase enough units to place them in areas to fit their workflow, and where we become the web of protection. We can be in enough places that we meet their workflow needs so that we can keep infections down.