About Pawan Saharan, MS, Ph.D.
Founder & CEO: Biomix Network Inc. USA, India, AUS
Whats app Mbl # +91 8291084108
Visit www.biomix.in for further information
Dr. Pawan Saharan, with a vision to provide "Health for All," invented the world's 1st immunity enhancement drug for all communicable diseases including HIV, Swine Flue, SARS Covid and a host of other immunity problems via a broad spectrum antiviral and new generation immuno-modulator RECEPTOL®.
Dr. Saharan was nominated to the prestigious "Who's Who American Historical Society" (Boston) as a world leader in the healthcare industry responsible for changing the destiny of nations and the human race via this creative contribution in the healthcare sector: RECEPTOL® builds the body's own immune system, providing hope to most disenchanted terminally ill patients globally.
He has global experience in running high profile healthcare companies at the top management level in India and the US. Credited with creating RECEPTOL®, the first truly Nano-Bio-IT Helix via inventing Radha 108 Nano-Peptides for AIDS therapy, he is also recognized for developing reusable micro-chip diagnostics for Covid, AIDS, Cancer, TB and other infections. These products cost a fraction of current tests, creating a paradigm shift in healthcare and bringing smiles to billions of faces who could not afford modern treatment.
The late Dr. Abdul Kalam, former President of India, nominated Dr. Saharan for India's new drug discovery with a funding of Rs 120MM (US$ 3MM), by the Dept of Science & Technology, Govt. of India.
Dr. Saharan holds a Ph.D. Major in Medicine from West Virginia Medical Center, USA and topped First Rate Jawaharlal Nehru University in New Delhi while pursuing a Master in Life Sciences. He has authored several international publications and presentations, including the leading scientific journal, Nature. Dr. Saharan has organized several global conferences and led the Global Impact of Nanobiotechnology in Healthcare.
The Canadian and UK governments invited Dr. Saharan as a state guest in recognition for his contribution to healthcare and technological alliances between North America and India via Canada India Business Council. UK Prime Minister invited Dr. Saharan in March, 2011 as a keynote speaker at the UK India Business Council for a presentation on affordable health care. The American Association for the Advancement of Science (AAAS), Washington DC nominated Dr. Saharan for the best US Graduate Student Scientist Award.
______________________________________________________________________________
About Biomix Network LTD/INC
Biomix was incorporated in November, 1996 and registered in India and US (Delaware) having main manufacturing plants in India & USA along with research teams worldwide.
Receptol® Product Overview:
18+ Years of Research
65 Global Patents in USA, Canada, Europe, South Africa, UK, India
1 Stop Solution to Multiple Diseases Broad Spectrum Immunomodulator
58 Indications Including common cold, influenza, allergies, asthma, Swine Flu etc. to life threatening HIV, and Cancer
USP Highly efficacious Easy to administer
100% Natural & Safe No Side Effects
Receptol®, made from Colostrum Nano-peptides, helps people lead longer & healthier lives by building the body's immune system, thus aiding in prevention and cure for all communicable and immunity diseases: Coronavirus, AIDS, Swine Flu, RA, Allergy etc.
Active Ingredients (API) – Patented Nano – Informational Peptides (Class 4 Proline Rich Poly Peptides & Radha108).
Mode of Action – Receptol® gets absorbed in the blood through the buccal mucosa and crosses the Blood-Brain-Barrier.
Numerous studies have shown that Receptol® spray will deliver nanopeptide crossing blood brain barrier and have great effectiveness in treating many immunity diseases including all viral infections. As a natural product, Radha-108 Nanopeptides have no side effects which can be taken safely by all age and are not species specific.
Indications – Receptol® can address
SARS Covid, Swine Flu, HIV, Cancer
Autoimmune Disorders
Malnutrition, Diabetes, RA, Chronic Fatigue Syndrome
Asthma & Allergies Viral Respiratory Infections
Dengue Fever, Diarrhea Common Cold, Influenza
Prevents Recurrent Infections I all chronic ailments
Product Range, Indications & Dosage
Product Range
Indications

Prevention of Swine Flu, HIV, SARS COVID & other Viruses with associated recurrent infections like diarrhea, cold, flu.

Combats malnutrition, chronic fatigue syndrome and helps in weight gain.

Immunity enhancer for immune disorders TB, Dengue, Hepatitis, Asthma, Rheumatoid Arthritis.

Dosage

4 Sprays of 0.75ml metered dose (3ml), two each on each side of inner cheek 4 times daily or 1 gm of Powder as an additive in any HFDs.

Keep in a cool & dry place.

Keep under refrigeration once the bottle is opened and consume within 30 days after opening.
Mode of Action
PRPs get absorbed in the blood through buccal mucosa and crosses the Blood Brain Barrier
Radha108 (PRP) promotes differentiation of B cells, differentiation & maturation of macrophages and monocytes.
Activates natural killer (NK) cells, cytotoxic cells of the innate immune system.
Mitigates cell fusion and docks on HIV glycoprotein like Gp120, 180,160 and 41 mimicking receptol on the cell surface closing entry of viruses.
Stimulates production of cytokines IL-1 to IL-11, TNF-α, INF–γ.
Stimulates the maturation of immature thymocytes into either helper or suppressor T cells
Radha108 also functions as a molecular signaling device which works through receptors on target cell surfaces
______________________________________________________________________________
Medical Travel Today (MTT): Please provide our readers with some background on your medical training and what led to the development of your company, Biomix Network.
Pawan Saharan (PS): After years of medical education and research in the United States including my very first publication in the world famous scientific journal, Nature at age 21, I decided to return to my motherland India to help provide evidence based medicine via heading research and global business development at Nicholas, the pharma company that discovered Aspirin and Sorbitrate which became lifeline for heart patients globally.
MTT: What were your goals and how do you see the company positioned to address COVID-19 and other health issues?
PS: Our goal is to help billions of people worldwide via safe, affordable and effective treatment and prevention of all communicable diseases via a broad-spectrum immunity boosters derived from mothers first milk, Colostrum with proven track record of global clinical studies.
Our vision was to find out what causes illness and how to reach solutions in health care in every nook and corner of the universe via our Immunity Booster RECEPTOL®, proprietary telemedicine, Lab on Chip for mass screening health alerts and by providing healthcare to the remote areas.

We have conducted clinical studies on over 25,301 subjects including 10,000 healthy population using RECEPTOL® that helps build the immunity against all communicable infections. We followed these patients for over 13 years in the United States, Africa and India with a view to provide a single safe and efficacious product vaccine via Receptol all for all communicable infections.
Global clinical studies were conducted on Immunity Drug Radha 108 formulation RECEPTOL® oral spray in HIV + AIDS patients on a stand-alone monotherapy basis as a model for all viral and immunity disorders.  A follow post the study was done for a period of 10 years showing it has treated AIDS patients fully with only 1 year of therapy compared to life Long ART.

MTT: Now, please share with us more information about Receptol® and why it is described as the Indian solution to global health problems created by the COVID-19 pandemic.
PS: Our health is directly influenced by our immune system. A balanced and healthy immune system is of utmost importance for our body's ability to defend against infections. WHO proclaimed "It is our ability to create a healthy immune system that represents the greatest potential for gains in humans. Therefore, creating a healthy immune system via Mother's 1st Milk: colostrum and its derivatives harness maximum benefit towards human health.
The Receptol®oral spray, globally patented (USA Patent # US 9,249,188 B2) is a new Immunity Drug (NID) providing mode of action in a vaccine-like manner with active immunity. It can be used for treatment and as preventive vaccine in dealing with the current 2019-nCoV epidemic.
Receptol® consists of cell-to-cell communicator Nano informational peptides (Radha108) and proline-Rich Polypeptides (PRPs) from colostrum: mother's 1st milk after the birth of the child or calf. RADHA108 series has shown to dock on glycoprotein receptors on the cell surface and thus close doors and windows for viral entry into the cell surface and immune cells, in particular.
The S-protein/receptor interaction is the primary determinant for a coronavirus to infect a host species and also governs the tissue tropism of the virus. Receptol® nanopeptides can block the attachment of S protein, as in the case of a well-studied mode of action in treatment of retrovirus infection such as HIV and Swine Flu.
We believe that Receptol® is a way to prevent all immunity disorders via common mode of action and support all chronic ailments by preventing recurrent infections as claimed in the granted US Product Patents. The world is searching for a Covid-19 solution, and we have a way of preventing and treating it with a hypothesis that mode of action of COVID-19 is similar for all communicable viral infections. This has special importance for the medical tourism industry which involves millions of patients traveling worldwide to access care.
MTT: Do you hold patents or other distinctions?
PS: This new immunity booster drug having nano-informational peptides from Bovine Colostrum with holds global patents as Radha 108 which were awarded after 15+years of basic research.
This was achieved with the help of an eminent group of scientists and doctors — with relentless efforts by myself in collaboration with two time Nobel Prize winner, late Prof Dr George Wald, Harvard Medical School; Prof Joseph Weizenbaum, Father of AI, MIT Cambridge; Dr Suresh Advani, MD, Oncologist & Founder: Tata Memorial Cancer Hospital Mumbai; and Dr C R Bhatia, Director: Biomedical research at Bhabha Atomic Research Center & Secretary Dept of Biotechnology, Govt of India.

The United States, EU, Africa & Singapore approved this path breaking innovation for 58 indications targeting conditions like gut infections, muscle loss, Alzheimer's, Chronic Fatigue Syndrome along with Crohn's disease, ulcerative colitis, HIV, Swine Flu, TB, Cancer: Carcinoma, Type 2 diabetics, COPD: Allergy & Asthma, Autoimmune & Neural disorders: RA,, Parkinson, Nerve regeneration & Memory Enhancer (US Product Patent#9,249,188) and will enable human population to lead longer & healthier lives via building body's own immune system naturally at affordable cost.

The US granted product patents for 58 indications, including SARS COVID
"RECEPTOL's unique Mode of Action led to US & EU Govt granting product patents for 58 indications: starting from the common cold, influenza, allergies, asthma, Rheumatoid Arthritis, Swine Flu, Endometriosis, Chronic Fatigue Syndrome, etc. to life threatening HIV, and Cancer with US Product Patent # 9,249,188 along with Canadian, European, Indian, South African & Singapore patents. RECEPTOL® has also been approved by Government of India for National Health Program."
Patent No :-USA,249,188B2
Date of Patent :-Feb,02,2016

MTT: Can you provide a timeline of key events for the company and some milestones?
PS: Please see the charts and information below.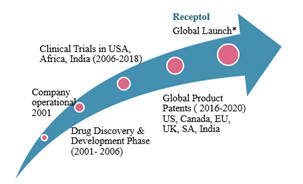 The global launch is based upon global market research by IPSOS USA, Indian market research by Institute of Rural Management, and Phase 4 by Lupin Laboratory in India, Himalayan Health Ltd Australia, Pharm Echo Russia,
We expect to maximize revenue by out-licensing as a drug in the US, EU, Russia, Asia Pac, Japan and launching as an Immunity Booster by building our own manufacturing plants in India, US, Australia and Russia.
Globally, RECEPTOL® received 65 Product Patents for 58 indications in North America, Canada, EU, UK, South Africa and India, with the latest being granted in February 2020. Phase I of the Clinical Trial was conducted in the United States to ascertain the safety of the product along with pre-clinical acute & subacute studies done at National Institute of Nutrition Hyderabad. Phase II – IV studies were conducted in Africa and India for efficacy of RECEPTOL® using AIDS as a model for all viral/immune compromised conditions
Meta Analysis included studies on allergy, asthma, chronic fatigue syndrome and endometriosis which were conducted in the US by doctors who dispensed the products to the patients directly. Similar studies were conducted in Australia and India on Swine Flu.
MTT: Can you recap the studies and clinical trial conducted?
PS: The chart below provides a concise picture.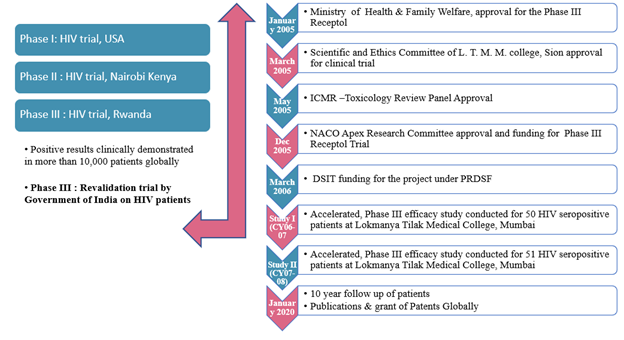 MTT:  What are the key differentiators for RECEPTOL® vs. other treatments on the market today?
PS: We have found a simple solution in building body's own immune system naturally to prevent and treat majority of immunity disorders including all communicable infections against a very complicated treatment regime with low or no success rate by a single drug by all the major healthcare companies.
TheMode of Action of RECEPTOL® drastically differs from other treatments/vaccines in pipeline since it blocks entry of all viruses, by lockdown. It augments immunomodulation in unique patterns not only for COVID-19 but all Immunity disease including CANCER which differentiates it from all other products researched and in pipeline by Gilead Sciences, Astra Zeneca, Eli Lilly, Glaxo, Novartis, Pfizer & Merck.

MTT: What are you looking for in the United States in the future to provide end to end solution for COVID-19.
We are looking for marketing and distribution tie up to take our product and services to every home in the United States, Canada and Mexico. We have identified a few companies however, we are open to new offers at the earliest for the launch of RECEPTOL® Immunity Booster, AI based Virtual Specialty Hospital portal with unique telemedicine with health alerts on mobile phones for the doctors and patients, online clinical studies data management systems and mass screening of any infections like COVID via Laser Driven hand held devices ( Lab on Chip).