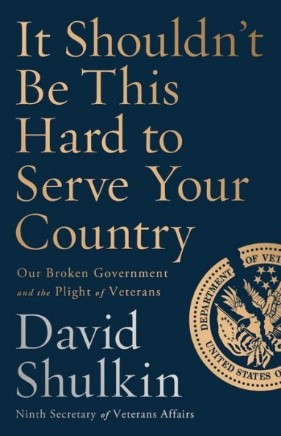 About the Honorable David J. Shulkin, MD
The Honorable Dr. David J. Shulkin was the ninth Secretary of the US Department of Veterans Affairs. Nominated by President Trump to serve in his Cabinet, Secretary Shulkin was confirmed by the US Senate by a vote of 100-0. Secretary Shulkin previously served as Under Secretary for Health having been appointed by President Obama and confirmed unanimously by the US Senate.
As Secretary, Dr. Shulkin represented the 21 million American veterans and was responsible for the nation's largest integrated health care system with over 1,200 sites of care, serving over 9 million Veterans. VA is also the nation's largest provider of graduate medical education and major contributor of medical research and provides veterans with disability payments, education through the GI bill, home loans, and runs a national cemetery system.
Prior to coming to VA, Secretary Shulkin was a widely respected healthcare executive having served as chief executive of leading hospitals and health systems including Beth Israel in New York City and Morristown Medical Center in Northern NJ. Secretary Shulkin has also held numerous physician leadership roles including the Chief Medical Officer of the University of Pennsylvania Health System, the Hospital of the University of Pennsylvania, Temple University Hospital, and the Medical College of Pennsylvania Hospital. Secretary Shulkin has held academic positions including the Chairman of Medicine and Vice Dean at Drexel University School of Medicine. As an entrepreneur, Secretary Shulkin founded and served as the Chairman and CEO of DoctorQuality one of the first consumer orientated sources of information for quality and safety in healthcare. He has served on boards of managed care companies, technology companies, and health care organizations.
Secretary Shulkin is the Distinguished Health Policy Fellow at the Leonard Davis Institute at the University of Pennsylvania. He is board-certified internist and Fellow of the American College of Physicians. He received his medical degree from the Medical College of Pennsylvania, his internship at Yale University School of Medicine, and a residency and Fellowship in General Medicine at the University of Pittsburgh Presbyterian Medical Center. He received advanced training in outcomes research and economics as a Robert Wood Johnson Foundation Clinical Scholar at the University of Pennsylvania.
Over his career Secretary Shulkin has been named as one of the Top 100 Physician Leaders of Hospitals and Health Systems by Becker's Hospital Review and one of the "50 Most Influential Physician Executives in the Country" by Modern Healthcare and Modern Physician. He has also previously been named, "One Hundred Most Influential People in American Healthcare" by Modern Healthcare.
Follow @DavidShulkin
___________________________________________________________________________
Medical Travel Today (MTT): Can you give the readers some background on your experience?

David Shulkin (DS): I'm a primary care doctor and I deliberately chose to go into the field to make sure I could help people maximize health and wellness in their lives.
I found out early on in my career that besides seeing patients one-on-one, I could have a big impact by looking at how the system of care works, and how to improve systems of care for better quality and safety.
One of the other lessons I learned was the more you involve a patient in their own healthcare decisions, the more successful they are complying with treatment plans. They also understand more of what doctors and other healthcare providers say.
As my career in management developed, I got the chance to run my own organization as the CEO of DoctorQuality, Inc. I always keep my perspective as a doctor trying to involve patients in their care.
That's where I think health care is now headed: more decision making by patients, both in their financial allocations of their healthcare resources and decisions about what their health care plan looks like. Beyond that, patients' knowledge, culture and beliefs about health and wellness will be more integrated.
Much of my career has been spent running healthcare systems and the last three years I had the chance to spend time in Washington helping run the Veterans Affairs (VA) healthcare system, which is the largest integrated healthcare system in the country.

MTT: Do you think people should travel for the best care that meets their budget or should they look locally and pick out whatever is best in their local market?

DS: I think that it depends on what treatment they need. If somebody is looking for a flu shot, I don't think that you're going to find much variation between how this shot's given and what that shot is, comparing regional care and traveling.
I think there are clinical conditions where one should look beyond their local community to make sure that they are getting the best treatment available.
That is part of the excitement of the time that we're in right now. We can get information and access an immense amount of resources and it is easier than it ever has been before.
Overall, I think the more specialized the care, the more likely there is not a known standard for care. That is when it is most important to make sure you are getting great resources.

MTT: How should the average person go about judging the quality or the capabilities of a particular institution? Should they go by what their doctor tells them, or should they do their own research?

DS: Sometimes patients aren't capable of making these decisions for themselves because it's too complex. I think that we're rapidly seeing those barriers come down.
The truth is that each person has a different definition of what's important to them. Many people are looking for a healthcare provider who can relate to them, listen to them, understand them, and will take the time to understand their particular needs. Other people might not be looking for that — they want technical skills and capabilities of a provider.
So, I don't think this is one size fits all. It's like most other things in that as a consumer we have preferences and that's why there are choices in the market.
MTT: What do you recommend for the patients that want to be more educated about their health?

DS: Most patients who want to know more are trying to ensure they're making good decisions about their health. It is becoming increasingly easier to learn more.
One of the ways that patients are finding help is by connecting with other patients that have gone through similar experiences. Finding communities of patients with the same condition or symptoms can be very helpful.
A lot of these people are becoming very, very knowledgeable, in some cases even more knowledgeable than the physicians who specialize in those areas. Beyond that, they know what the experience of being a patient with that disease or condition is, so they can offer a lot of insight to someone who is newly finding out about their situation.
Social media is really empowering patients within these groups. I think patients can become quite sophisticated about their choices right now.

MTT: Can you tell our readers more about your upcoming book?


DS: My book, "It Shouldn't Be This Hard to Serve Your Country," was just released.
The name has a double meaning because the two reasons why I wrote this book were sharing the lessons I learned while leading the VA system and trying to help Americans understand why this system exists and why it's so important.
It's not just important for veterans, but really for all Americans. The VA has been a true innovator in healthcare that has impacted all Americans. The VA performed the first liver transplant and developed the nicotine patch and cardiac pacemaker. They discovered the association that aspirin helps prevent heart attacks and they were the first big system that demonstrated the value of electronic medical records.
The VA also trains up to 70% of U.S. physicians who rotate through the VA during their medical training. The VA is the largest educator of nurses, social workers, psychologists, pharmacists and more.
Many people don't understand the value that this system brings, let alone that it honors our responsibility to those who have gone off to defend the country. When they come back, they need to know there are people dedicated to getting them back to health and wellness.
My experience seeing that system upfront helped me understand its value, so I wanted to share that so other people could understand and appreciate it, too.
We hear a lot about the problems in the VA because it's a very public system. We hear that this system is inherently fixable. That was one of the key questions I had when I came from the private sector, "Is this system so broken that we can't fix it?"
I think I make a good case in this book about the plan that I have to fix the system. I also include the progress that we were making and how there is a blueprint for leaders in the VA to be able continue to make this system work better for everybody.

The second reason I wrote the book, and the second play on words on "It Shouldn't Be This Hard to Serve Your Country" is about what public service is like today..
I explain what my experience was — going from being a CEO, to working in Washington, serving in a government position. I include in my book the reasons why I did that, what I experienced when I went to Washington, and what it was like to be engulfed in a political environment people see on their TV screens and newspapers.
I go into detail on how difficult it has become for people in public service to be able to focus on the job and get their jobs done.

My fear is that if we don't correct what it's like to serve in the government, we're going to unfortunately, be at a point where people may not want to raise their hands and come and serve.
I think that's going to be a tragedy for all of us in this country because we need the best and the brightest to be able to come and give time and expertise to make our government work better for us. That is why I wrote the book.

MTT: What do you think the future hold for the VA given this political climate you're mentioning?

DS: I had clearly outlined a vision for the VA that I published in the New England Journal of Medicine.
The model represented what I think is best for veterans. I think working closely with the private sector and allowing veterans to get care in the private sector would improve the system. Strengthening and investing in modernizing the VA would help improve everything.

Veterans have particular medical needs, so the backbone of the VA is providing them that level of care. Allowing the private sector to contribute to veterans with the services they provide best would create a very powerful hybrid system.
The problem is, they don't want to take the wrong approach. That's leading to a political argument that you either say, "Let's do away with the government being involved in healthcare. Let's prioritize the VA."
On the other end of the spectrum they say, "Let's do this solely as a government organization." That's part of the challenge that I found myself in trying to advocate for what I thought was best for veterans.

MTT: Do you think it's a question of bigger budgets, or you think it's a question of better talent?

DS: I think that they are somewhat related.
The VA system has been atypical for some time. That means it has not had the ability to keep with modernizing facilities and modernizing its tools and equipment.
When you work in healthcare you want to be able to deliver the very, very best you can to your patients. It becomes sort of a cycle. If you don't keep up with investing in your own system, it becomes harder to recruit the right people and then offer the right people to keep your organization running.
That's why I felt very strongly that we had to start really looking at a long term plan to modernize the VA. Part of that was my decision to move towards a commercial electronic health record and bring us up to speed on the key issues that other private healthcare systems are dealing with, like interoperability of data and the new types of decision support that the commercial systems are providing.
I think continuing along those lines to modernize the VA will be an important part of sustaining the VA.

MTT: Do you think Medicare for all, if it ever passes, would impact the VA?

DS: Veterans don't operate in complete isolation from the rest of the healthcare system.
Two-thirds of veterans get some of their care in the VA system and the rest of their care in the private healthcare system.
Imagine if you're a veteran over age 65. You're going to have Medicare, you're going to have your VA benefits, and you may choose where you get your care, depending upon whether you use Medicare or VA. You have to look at these systems together so whatever happens from a policy perspective in the general healthcare system, it will have a big impact on veterans.
In terms of my own view of health policy, I'm not really sure which version of Medicare for all, we're talking about, because there's lots of different ways to do that. All the way from, "there will never be private insurance companies anymore." to, "this will be a plan where people at younger ages can buy into the Medicare system."
For me, I have to think about this in terms of what are the principles we're trying to achieve and if we're trying to achieve better access to health care for those that today don't have access to it, then I'm in favor of it.
If we're trying to get people more choice in their healthcare decisions, and of course the Medicare program has lots of choices in it, then I'm in favor of it.
I think ultimately, once we get beyond the political jockeying, we're going to really have to sit down and see what it is that we mean when we're thinking about changing our current healthcare system.

MTT: Is there a message you would give foreign governments as far as what they could learn from us and what we could learn from them?

DS: I think that there certainly a lot of lessons that people in other countries could take from the United States. Especially countries that typically have more government control over health care than the United States.
Look for systems like the Department of Veterans Affairs for some of those lessons, and then look towards the private sector to see what is happening. The United States healthcare system is hard enough to understand even if you live here.

I do think that there is much to learn from the international market and vice versa. We can look at ways that other countries have been able to control their costs and provide universal access in a way that we have not been able to do.
As far as others looking at us, I think that they marvel at the diversity of healthcare choices that we have, and the quality of care that we can provide.

Unfortunately, the quality of care in our country is not very consistent. We still have a situation in this country where you can determine health outcomes, dependent upon where a person lives or what their zip code is.
In general, I think that while people often point to particularly European or Canadian systems and say that they're providing care with better outcomes and lower costs, what they're not considering is that those other systems really look at the social determinants of health. The social welfare is part of the health care system there, where in our country we separate physical health from the social welfare agencies and the social determinants.
If you look at them apples to apples, I think that you find very, very similar costs and very similar outcomes.

MTT: How do you think we compare to other countries in terms of what we do for our veterans?

DS: I think that we are the only country who has a separate healthcare system for veterans. We do more for our veterans than almost any other countries that I'm familiar with.
I think that we have more veterans than most countries, so we are facing more obstacles than others. Our veterans, particularly in the past few years, post 9/11, have suffered from the very dangerous and harmful consequences that have come out of the conflict.
I think that there's a reason why we have a very different health care system that's designed for our veterans than what you find in other countries where their military forces are much smaller.

MTT: Can you share with us what you're planning on doing next?

DS: I'm at a point in my life where I want to focus my activities on things that are going to be meaningful and impactful to others. I've tried to take a deliberate approach to spending time on things that are important to me.
One of the things that I will always continue to do is advocate for veterans and continue to help evolve the VA's system. That's a big part of the reason of why I wrote the book. I want to continue to make sure that I'm sharing those insights that I gained in Washington and continue to contribute to that goal.
As a result of my career and my time in government, several other factors have come out that are really important to me. One of those is behavioral health. Seeing the public health crisis that we have, the abundance of many behavioral health issues and the suicide epidemic that's going on, makes me want to commit my time and efforts to fixing behavioral health systems. Issues — such as opioids and substance abuse. These are important to me.
I want to figure out how we begin to impact the social determinants of health care. It is going to be very impactful for improving outcomes and something I want to remain involved in.
I'd also like to focus on the area of technology, whether it's the burgeoning field of genomics, or the use of artificial intelligence to help us with better diagnosis and treatment.
The use of remote monitoring, for example, is a tool we used at VA. I could take care of patients in Aragon from my office in Washington DC using Telehealth. I am very excited about all these new technologies.
I'll continue to focus my time and energy on those activities that I think are going to make a difference in people's lives.